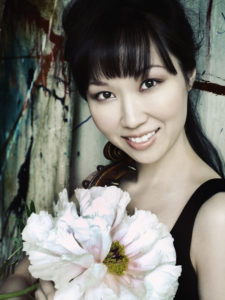 Praised by critics for her "astounding virtuosic gifts" (Boston Herald), "achingly pure sound" (The Toronto Star), and "impressive technical and interpretive control" (The New York Times), Tricia Park enjoys a diverse and eclectic career as a violinist, educator, curator, writer, and podcaster.
Tricia is the producer and host of the podcast, "Is it Recess Yet? Confessions of a Former Child Prodigy." She received the prestigious Avery Fisher Career Grant and was selected as one of "Korea's World Leaders of Tomorrow" by the Korean Daily Central newspaper. Since appearing in her first orchestral engagement at age 13 with the Baltimore Symphony Orchestra, she has performed with the English Chamber Orchestra, St. Paul Chamber Orchestra, Frankfurt Radio Symphony Orchestra, and National Symphony Orchestra of South Africa; the Montreal, Dallas, Cincinnati, Seattle, Honolulu, Nevada, and Lincoln Symphonies; and the Calgary, Buffalo, and Westchester and Naples Philharmonics. Tricia has given recitals throughout the United States and abroad, including a highly acclaimed performance at the Ravinia Rising Stars series. She also performs as half of the violin-fiddle duo, Tricia & Taylor, with fiddler-violinist, Taylor Morris.
Tricia is the founder of the Solera Quartet, the winner of the Pro Musicis International Award and the first American chamber ensemble chosen for this distinction. Acclaimed as "top-notch, intense, stylish, and with an abundance of flare and talent," the Solera Quartet performed their debut recital at Carnegie Hall's Weill Hall to celebrate their addition to Pro Musicis' roster. The Soleras' debut album, Every Moment Present, features music by Janacek, Mendelssohn, and Caroline Shaw and was hailed by the New York Times hailed as "intoxicating….The quartet's playing on the recording is sensitive and finely articulated throughout and the sound bright and vivid."
Other career highlights include Tricia's recital debut at the Kennedy Center, appearances at the Lincoln Center Festival in Bright Sheng's The Silver River, her Korean debut performance with the Korean Broadcasting System (KBS) Orchestra and collaborations with composer Tan Dun. As First Violinist of the Maia Quartet from 2005-2011, she performed at Lincoln Center and the 92nd Street Y in New York and Beijing's Forbidden City Hall and was on faculty at the University of Iowa.
Passionate about arts education and community development, Tricia is the co-founder and artistic director of MusicIC, a chamber music festival that explores the connections between music and literature. In 2019, Tricia received an MFA from the Writing Program at the School of the Art Institute of Chicago, where she was a recipient of the New Artist Society Scholarship and was awarded a Writing Fellow Prize. Her writing has been published in Cleaver, Alyss and F News Magazines.
Tricia received her Bachelor and Master of Music from the Juilliard School where she studied with Dorothy DeLay. She was a recipient of the Starling-DeLay Teaching Fellowship at the Juilliard School. She has studied and performed chamber music with Felix Galimir, Pinchas Zukerman, Cho-Liang Lin, Michael Tree, Gary Hoffman, Paul Neubauer, Robert McDonald, and members of the American, Guarneri, Juilliard, and Orion String Quartets as well as Eighth Blackbird. Other former teachers include Cho-Liang Lin, Donald Weilerstein, Hyo Kang and Piotr Milewski.
Tricia teaches creative writing online and has taught writing and music at the University of Iowa. Currently, she is a Lecturer and Artist-in-Residence in the Department of Music at the University of Chicago. Learn more about Tricia, subscribe to her newsletter, and check out her online courses: www.triciapark.com and www.isitrecessyet.com.
You can also follow along with Tricia's latest through her podcast and on YouTube and Facebook.