"…a precise and engaged artist, unafraid of deep ambiguities…" (Justin Hayford, The Chicago Reader)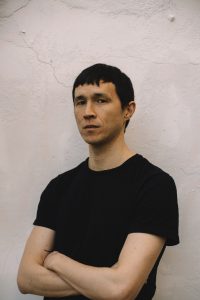 Shi-An Costello (世安) is a composer, pianist, and a proud second generation mixed race Asian American, born and raised in Chicago. Although he started piano lessons at a young age, Shi-An's first love was sports. But in high school, he fell in love with composing, and his focus shifted from sports to music. His teacher told him that in order to compose, he would have to learn piano, and thus his commitment to the piano marked the beginning of a lifelong pursuit.
In 2010, Shi-An received a bachelor's from Columbia College (magna cum laude) in piano and composition, under Sebastian Huydts, and in 2012, Shi-An received a master's in piano performance from McGill University in Montreal, under Dr. Sara Laimon, becoming the first in his family to attend graduate school, and the first in his family to become a professional musician.
After school, Shi-An became a touring concert pianist across Canada and the U.S., while also holding the posts of staff accompanist for the percussion area of the Schulich School of Music at McGill University (2011-2013), staff accompanist at the Interlochen Center for the Arts (2013), and visiting artist to the composition department of Boston Conservatory (2013-14). In 2014, Costello joined the piano faculty of New Music School in Chicago, under the leadership of former Chicago Symphony Orchestra principal pianist, Mary Sauer.
Costello has performed with members of Orchestre Symphonique de Montréal, Orchestre Métropolitain de Montréal, and the symphony orchestras of Toronto, Missouri, Milwaukee, Salt Lake, Honolulu and Winnipeg, among others; and many major new music groups across North America. His repertoire includes music new and old, from J.S. Bach to Brian Ferneyhough, from Chopin to Morton Feldman. He has commissioned and performed the works of many living composers from all over the world, many of whom are dear friends.
Shi-An has received composition commissions from vocalist Sarah Albu, keyboardist Francis Yun, and Brianna Matzke of The Response Project. He has also received performances from ThingNY, Dal Niente, International Contemporary Ensemble (ICE), Timepoint Ensemble, Thin Edge New Music Collective, Palomar Ensemble of Access Contemporary Music, and violinist Marina Kifferstein. In 2016, Shi-An was featured alongside Shulamit Ran and Nicole Mitchell, co-presented by New Music USA and the Ear Taxi Festival at Harris Theater in Chicago.
Costello released his solo debut album in 2018, recorded under Blue Griffin Records, entitled Rounded Binary: Preludes and Fugues of J.S. Bach and Dmitri Shostakovitch. The album received positive reviews from The Arts Desk, Classics Today, and Quintus. His second and third albums, Posthumous: Preludes, Nocturnes and Mazurkas of Frederic Chopin, and an album of contemporary reimaginings of the keyboard sonatas of Franz Joseph Haydn, await release in 2020.
As a new music advocate and administrator, Shi-An founded and directed the Morton Feldman Chamber Players (MFCP) from 2013-2017, founded and served as artistic director of Vox Humana collective of speaking musicians from 2011-2013, and co-founded and served as president of Cadre composer collective at Columbia College from 2008-2010.
Outside of music, Shi-An enjoys creative alter-egos as an actor and writer. Shi-An appeared with TUTA Theater Group, Northbrook Theatre for Young Audiences, Fierce Productions, Chicago Fringe Festival, and a regular at the now defunct Salonathon, at venues like Victory Gardens and Stage 773, as well as various community playhouses. As a writer, Shi-An has contributed poetry and prose to NewMusicBox, Cacophony Magazine, chicshifter and Scout & Birdie, among others.
Press Highlights:
"…a tour de force…a thoughtful and adventurous artist." (Brian Schuth, Boston Musical Intelligencer)
"…I've rarely smiled so much during a piano recital […] the best is saved to the end, Bach and Shostakovich ingeniously conjoined with a brilliant mash-up of both composer's C major preludes: possibly the most enchanting little piano piece I've heard all year. Fascinating, and entertaining." (Graham Rickson of The Arts Desk, on Rounded Binary)
"We recently came across Shi-An Costello's debut album Rounded Binary […] and were instantly excited by it not only because is it immensely innovative and creative, but also because it is intelligently and beautifully played from beginning to end." (Quintus, on Rounded Binary)