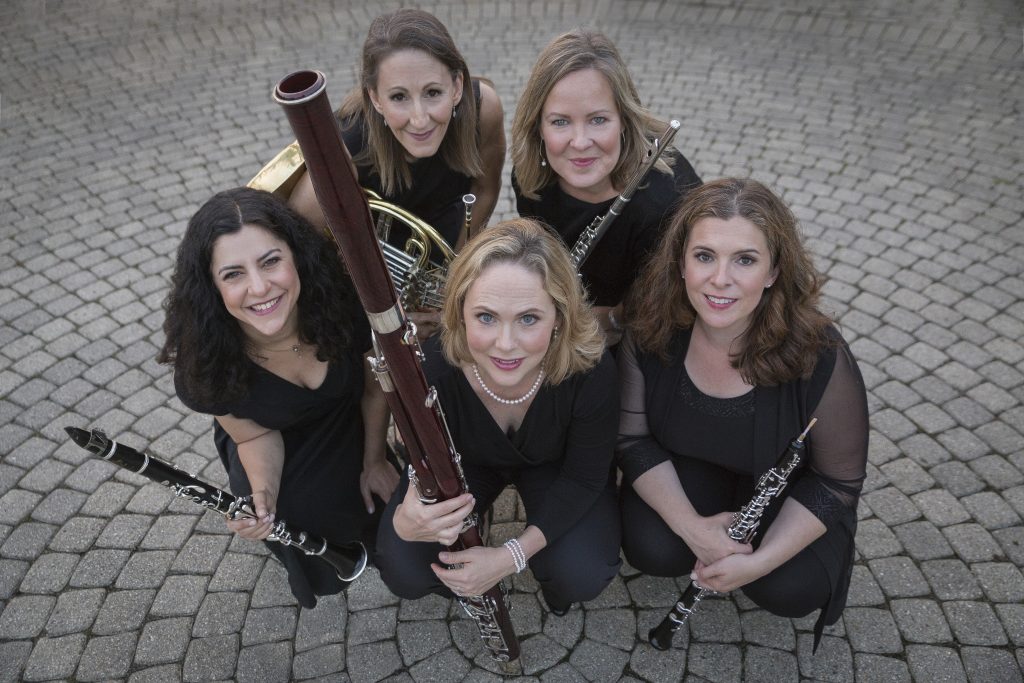 Sapphire Woodwind Quintet has been entertaining audiences with eclectic programs since 2004. Sapphire has performed on concert series all over Chicagoland, including the Dame Myra Hess Memorial Concert Series, Mostly Music Chicago, the Nineteenth Century Club, and the Noontime Concerts at the University of Chicago. Sapphire has also been broadcast live on WFMT performing at Preston Bradley Hall.
The group members are flutist Kim Fleuchaus, oboist Allison Baker Wehrle, clarinetist Anna Najoom, bassoonist Mackenzie Brauns, and hornist Angela Bilger. They are graduates of well-known music institutions, including Northwestern University, Lawrence University, The Cleveland Institute of Music and The Juilliard School. They are currently active freelance musicians and have played with prestigious symphony orchestras around the country, including Chicago, Milwaukee, Philadelphia, Elgin, Ars Viva, Toledo, and Evansville.
The members of Sapphire Woodwind Quintet are dedicated music educators and teach in schools as well as maintaining private studios. The quintet was invited by jazz musician Orbert Davis to join his Discover Music: Discover Life program, which is dedicated to giving all students access to the arts and brings high-quality programs to needy schools. The quintet has enjoyed "planting the seeds" for another generation of live music enthusiasts in classrooms all over Chicago.
Sapphire Woodwind Quintet is known for its original programming that includes works by Women Composers, Klezmer music, folk songs from North and South America, and pieces showcasing ethnic instruments. Sapphire is committed to expanding the quintet repertoire by working with living composers to bring new works to the public as well as arranging works by female composers from previous eras. Their goal is to surprise audiences with fresh music and share the joy of live music with their listeners.