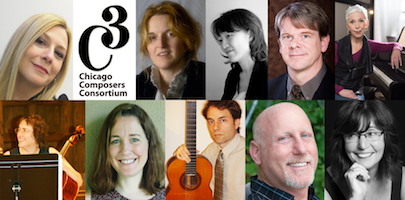 The Chicago Composers' Consortium is a grass-roots organization of composers dedicated to creating new music in Chicago. We are a non-profit, 501(c)(3) organization formed in 1988 and incorporated in 1989. Since then c3 has organized scores of concerts, invited many distinguished composers, and collaborated with several musicians and ensembles, creating unique musical events.
What has set the consortium apart from other contemporary music organizations has been its composer-generated collaborative projects.
As a presenter of contemporary music in the Chicago area, the consortium has found new ways to introduce Chicago to what is new in music.