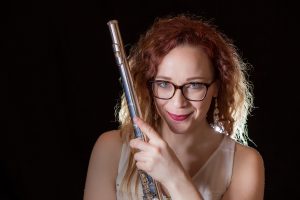 Suzanne Hannau (Gillen) is an active freelance performer and teacher in the Chicagoland area noted by the Chicago Tribune for being "…especially deft at those dual actor/musician duties." Suzanne is passionate about the marriage of different performance arts in a production and is always looking for opportunities to combine instrumental doubling with movement, acting, and singing. As a result, Suzanne has commissioned works for solo flute and voice by local composers. She premiered Eric Malmquist's Sonata for Solo Flute in December of 2015 and in July of 2016 she premiered Jonathan Hannau's Pathway for alto flute and voice: single performer.
In 2017 Suzanne joined Trade Winds Ensemble, a group dedicated to giving workshops and programs that explore music as a tool for social change. With Trade Winds she has given workshops locally in Chicago with RefugeeOne and The People's Music School and internationally, most recently in Cap Haïtien, Haiti with BLUME Haiti. In addition to working with Trade Winds, Suzanne has performed with various ensembles in Chicago and has been on stage and in the pit orchestras for various theaters in the Chicago area, most notably in Court Theatre as an actor musician for THE DEAD ("Lily") and SECRET GARDEN ("Robin").
Suzanne is an invigorating, demanding, and encouraging flute teacher. Though she strives to always make music fun and exciting, she requires diligent practice, focus, and a desire to continue improving from all her students, regardless of skill level. She teaches at the Music Institute of Chicago, Marian Catholic High School, Musical Chairs in Ravenswood, and in her private studio in Lincoln Park. She encourages her students of all ages to enjoy the actual process of learning, rather than to only focus on the results of practice.