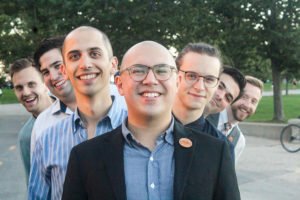 Constellation Men's Ensemble (CME) is a Chicago-based vocal group dedicated to creating distinct performances in unique spaces, empowering the next generation of singers through educational engagement, and expanding the repertoire for men's vocal music by commissioning new works from both emerging and established composers. 
In 2016, CME founded their new music series NOVA, "new, original, vocal, art."  NOVA seeks to capitalize on their mission of commissioning new works. Most recently, the third annual NOVA concerts were centered around the theme of "the sounds of silence," and featured the largest commissioned work to date by Chicago composer Nicholas Cline. This year, NOVA will premiere works dealing with the theme of house & home including our first ever multimedia vocal oratorio by composer Sean Ellis Hussey. "VOICES," will tell stories of our nation's foster care system. 
Constellation has had the opportunity to partner with Music of the Baroque to bring their music and passion to students within Chicago Public Schools. Workshop performances focused on careers in music, the joy of community through singing, and the multitude of ways that music can remain a part of your life post high school. Last fall, they toured to New England and Maine, working with over 2,000 middle and high school students through their passion of connecting with the next generation of singers.