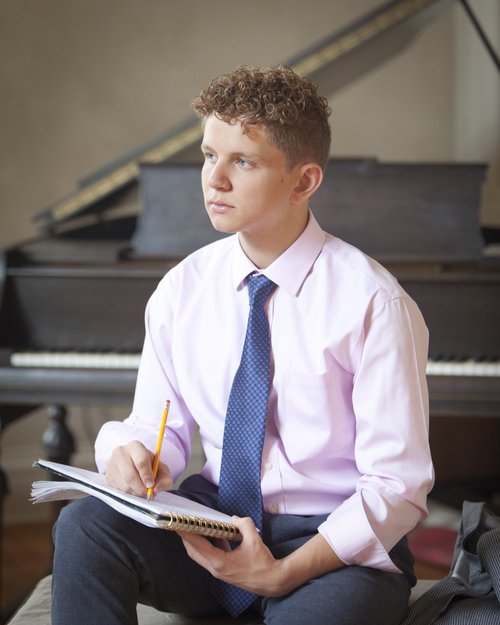 TREY TILLOTSON has worked in the classical music world since 2014. Born in 2002, Tillotson had his first official freelancing opportunity in 2015, and has since then performed, whether clarinet or piano, at various events, such as for a wedding, fundraisers, and multiple churches in the Pittsburgh area. His performance experiences include solo, chamber, choral, band, and orchestral in many of the youth orchestras in the Pittsburgh area, including at Heinz Hall with the Pittsburgh Youth Symphony Orchestra.
Tillotson wrote his first composition in 2013. Tillotson has had performances of his pieces by various ensembles, including by members of the Pittsburgh Symphony Orchestra, and in various locations, including Kilbourn Hall, the Greystone Mansion, PYCO Recital Hall, and the Armerding Recital Hall. Noticeable performances include performances of Tillotson's music for the Pittsburgh Symphony Association Salon Event in June of 2019 by members of the Pittsburgh Symphony Orchestra and a premiered piece by the Pittsburgh Youth Concert Orchestra (PYCO) Chamber Woodwinds during the PYCO Gala Event in 2021.
Tillotson was a 3rd prize winner of the Franz Schubert Konservatorium 2nd World Championship of Composition Competition in Vienna, Austria in 2021.
Tillotson is currently a student at Wheaton College studying Music Composition and is acting as the Wheaton College Symphonic Band's Librarian.