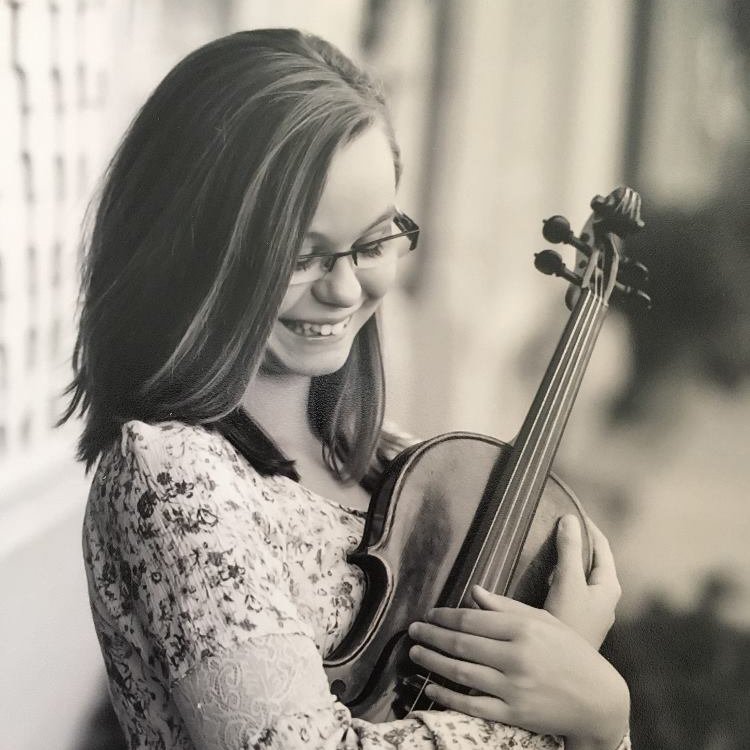 Amanda Beaune is a violinist and educator who is community focused and driven. She has found herself to be truly at home in new music, and believes that new music can serve as a direct path to connect with youth and our surrounding communities. As a whole, Amanda is working to elevate new music to a more familiar and accessible place for all. Recently, she gave her final master's recital at Northwestern University that included works by Shulamit Ran and Vijay Iyer. She has spent a year in the Contemporary Music Ensemble at Northwestern in which she has performed a variety of new works including composers such as David Lang, Natalie Joachim, Anna Thorvaldsdottir, Hans Thomalla, György Ligeti, Marcos Balter, and many more. Current and upcoming projects include 'Feels Like Honey,' a multi-genre collaboration with composer Hannah Boissonneault, and 'Priestess of Morphine,' a chamber opera written by Rosśa Crean to be performed in June 2022.
Amanda thrives on variety, which has led her to experiment and perform in many different genres and settings. Some of her career highlights thus far have included performances with artists such as Michael Bublé, Josh Groban, Sarah McLachlan, and Johan Lenox. She is a current member of the femme-powered collective Midtown Strings, performing at a multitude of special events and venues around Chicago and Detroit. Amanda has also enjoyed performing on a variety of recording projects, including a tribute album to Matt Michaels, a former Wayne State University jazz professor. During her studies at Wayne State University, she collaborated extensively with the jazz and composition departments and was a part of multiple student-created ensembles and chamber orchestras. Some of her professional free-lance work during her time in Michigan included playing in ensembles such as Rochester Symphony Orchestra, Dearborn Symphony Orchestra, Detroit Chamber Orchestra, Detroit Medical Orchestra, and many others.
Amanda has had the opportunity to work with a number of incredible pedagogues throughout her studies. Some of these include Blair Milton, Paul Kantor, Lina Bahn, Renée Jolles, Itzhak Rashkovsky, Violaine Melançon, and many others. She is an alumni of several summer festivals including Bowdoin International Music Festival, Green Mountain Chamber Music Festival, Lake Tahoe Music Festival, and Northwestern Summer Violin Institute. Some of her solo performance highlights in recent years have included several performances with the Baroque Ensemble at Northwestern under the direction of Stephen Alltop, and playing Mendelssohn Violin Concerto with the Wayne State University Orchestra.
Outside of performing, Amanda is passionate about arts advocacy and education. She is currently the Marketing Coordinator for Sound Mind, a non-profit organization seeking to end the stigma of mental health in the classical music community. She also loves to teach, which has led her to work in the Niles Township High School District and in the after school programs for the Chicago School of Musical Arts. She teaches private violin and piano lessons in the Evanston area at Music Conservatory of Illinois. In her free time, Amanda enjoys practicing yoga, writing, and drinking too much coffee!