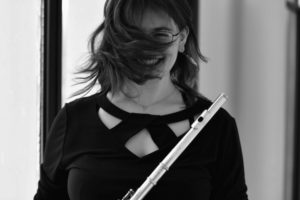 Praised for her intuitive musicality, her wide range of technical abilities, and her natural stage presence, Anna Fisher-Roberts brings the masterpieces of classical music into the modern era. With innovative, interactive performances featuring both brand-new and time-honored pieces, Anna ventures to bring classical music to modern audiences of all ages and backgrounds.
Anna is a native of Flagstaff, Arizona, where she spent the early years of her musical career studying with Jeannette Moore, principal flutist of the Flagstaff Symphony Orchestra. Anna earned her Bachelor of Music in flute performance at the University of Wisconsin – Madison, where she studied flute with Professor Stephanie Jutt and Dr. Timothy Hagen. While in Madison, Anna discovered her passion for new music and worked intensely with student composers, collaborating and performing new works every semester. Anna has commissioned and premiered over a dozen new works.
During her time in Madison, Anna served as the principal flutist of both the UW – Madison Symphony Orchestra and Wind Ensemble. She was also a winner of the 2018 Irving Shain Woodwind Competition. Anna performed with several chamber groups, from flute and piano duo to woodwind quintet, and was a member of the Contemporary Chamber Ensemble for all four years of her college career. She was also a featured soloist with the Concert Choir and performed in several student recitals.
It was here in Madison that Anna formed and conducted the Impromptu Chamber Orchestra, an entirely student-run ensemble that gave two performances during Anna's time at the university. She also conducted the Madison Flute Club's adult flute choir and the Madison Area Baha'i Choir. Anna was privileged to spend the summer of 2018 in Vienna, Austria as a member of the Vienna Summer Music Festival Conducting Institute. She has also assistant conducted with the Lyceum Festival Orchestra under the direction of Kayson Brown.
In the spare time that she doesn't actually have, Anna enjoys belly dancing, figure skating, and being outside, as well as creative writing and coming up with strange ways to play classical music. She enjoys playing Celtic music and dabbles in harp and banjo.