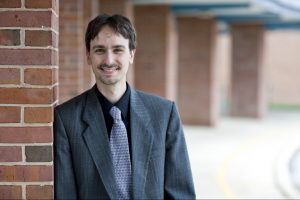 Described as "evocative" (Resonance) and "surreal" music "to bewilder, amuse, and provoke" (Epoch Times), the works of composer Steven Rice have won great acclaim and inspired intense debate. His music has been championed internationally by soloists and ensembles such as the Cabrillo Festival Orchestra (Marin Alsop, director), the Cleveland Chamber Symphony, Brave New Works, the Aspen Contemporary Ensemble, and Juventas in venues such as The Stone (NYC), the Krannert Center (Urbana, IL), and Harris Hall (Aspen Music Festival and School).
Rice's dramatic works for voice have attracted particular attention; his Murmurs from Limbo for vocal soloists and ensemble took 1st Prize in the 2005 Salvatore Martirano Memorial Composition Award and Wake Nicodemus for tenor soloist and sinfonietta received a 2009 ASCAP/Morton Gould Young Composer Award. The committee for the Tyler Youth Orchestra's New Music Project described Rice's Amazing Grace and Wake Nicodemus as "genuinely original, fresh, and socially conscious." Rice also appears as a bass-baritone to sing in a variety of works, from arias of J.S. Bach to songs of Harry Partch, from ensemble singing in Gesualdo to speaking in Lachenmann, as well as performing his own works.
Rice's orchestral works have been premiered by the Cabrillo Festival Orchestra (Marin Alsop, Director), the Cleveland Chamber Symphony, and The Eastman Composers' Sinfonietta, and have been championed by the Orchestra of the American Academy of Conducting at Aspen.
Active in the production and performance of electronic music, Rice served as an audio engineer and technician for the Eastman Computer Music Center from 2007 to 2011 and in this capacity produced and performed works such as Luis Pena's Anatomia De Um Poema Sonoro, Lois Vierk's Red Shift, and Matthew Barber's Interface Chapel for musicians as divers as ensemble eighth blackbird,, composer Tristan Murail, and the avant garde jazz Cuong Vu Trio. For his own electronic music, he has installed electronics into the high towers of carillons (Zimbelstern, with Tiffany Ng) and dragged equipment into the depths of old churches (Praetorius Ear with Randall Harlow). His On the Floodis of Babiloyne has been performed internationally by saxophonists.
Rice holds a Ph.D. in composition Eastman School of Music, where he studied as a Raymond N. Ball Fellow under Robert Morris, Carlos Sanchez-Gutierrez, and Allan Schindler. He was brought up in Kansas and Wisconsin, and worked from Cincinnati and, for many years, Baltimore. Rice currently resides in the Chicago area.