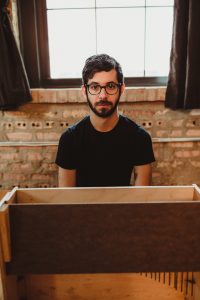 Jonathan Hannau is a Chicago-based composer and pianist interested in the surreal, abstract, and colorful possibilities of music. He actively embraces eclecticism and explores the concepts of narrative, drama, and stark expression while pushing them down the rabbit hole of timbre. Starting his musical career as a classically-trained pianist, his exposure to experimental and avant-garde music as an undergraduate sparked an interest in composition.
Quirky and vibrant, his compositions have been performed by the Ensemble Dal Niente, Civic Orchestra of Chicago, Ursa Ensemble, Origin Brass Quintet, Disquiet Music Ensemble, 20+ New Music Ensemble at DePaul University, Lakeshore Rush, Lake Effect Quartet, numerous soloists, and the CCMP players of Boston Conservatory.
An avid pianist and performer of new music, he currently plays in two Chicago-based groups: Ursa Ensemble, which performs contemporary and classical music during its concert season, and Plucky Plunkers: an improvisatory toy piano duo with composer Kelley Sheehan. His solo project titled the Rocking Chair Series involves commissions of solo piano works presented alongside an interview with the composer; this creates an inviting atmosphere for the audience as they listen to a wide variety of musical styles and exposes them to specific insights of the compositional process. Recently he came back from Haiti doing a teaching residency with Trade Winds Ensemble – an ensemble dedicated to using music as a tool to create social change – where they taught music and leadership workshops to hundreds of students ranging from beginner to performers and music educators.
He is currently working on the release of his first solo piano album that will consist of 8 piano etudes inspired by the meditation series that he currently curates called: Music, Stillness, Solidarity. Where musicians improvise meditative and relaxing music for people to center themselves to.
Jonathan completed his graduate studies at Roosevelt University and undergraduate studies at DePaul University where he studied composition with Stacy Garrop, Kyong Mee Choi, Kurt Westerberg, Christopher Jones, Seung-Won Oh and piano with Jelena Dirks. He currently maintains the position of music director for the Ravenswood Fellowship United Methodist Church and Associate Accompanist for the St. Vincent DePaul Catholic Church. He also serves as a piano and composition teacher at both Access Contemporary Music and Musical Chairs while also being an accompanist for the Chicago Academy of the Arts and the Old Town School of Folk Music.