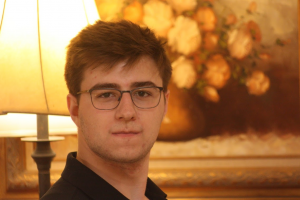 Ryan McGuire is an emerging American composer based in the Chicago area. Though he is young, he has already exhibited the traits of a great composer in the making. From the age of 9, he has produced a body of works that are ever increasing in their sophistication and maturity. An admirer of Beethoven, Schubert, and Mozart, his works show off the same qualities that have cemented their music into the minds of the music loving public. They are not just sophisticated – they are solidly enjoyable and stand up on their own as true works of art.
"His instinct is developing, but his ear – and skill – in spinning a captivating musical tale is spot on. He is really good at coming up with stuff that you know you will like as soon as you start listening. There is just — there are just so many excellent moments in each of his pieces that every time I think I just want to immediately listen to it again. When I think of Ryan, I also think of Mendelssohn." – Hongyi Quian, Oboist, CYSO.
He is a composer of chamber, orchestral, solo instrumental, and piano music. Among his prime achievements are his quartet, his third piano concerto, his first two piano sonatas, and his rondo for violin and piano.