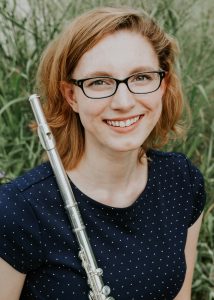 Madeleine Wilmsen is a performer and teacher based in the Chicago area. She recently graduated from the University of Kansas with a Bachelor of Arts in Music with an emphasis in Flute Performance where her principal teachers were Sarah Frisof and Michael Gordon. She was awarded placement in the University Honors Recital in 2016 and is an accomplished ensemble player. Wilmsen was selected by the St. Louis Flute Society in 2017 as a performer for their masterclass with Demarre McGill. She is also an alumna of Credo Flute at Elmhurst College.
In 2017, Wilmsen was principal flutist in the University of Kansas Symphony Orchestra's production of Mozart's Don Giovanni. She also served as principal flute of the university's Wind Ensemble for the 2018 premiere of Kevin Walczyks' "Symphony #5: Freedom from Fear" at the John F. Kennedy Center in Washington, D.C. Wilmsen will be heard in 2019 on the album recording of Walczyks' work to be released by Naxos Records.
Wilmsen combines her love of music and her passion for promoting the arts in her community by actively supporting nonprofits through internships at the Kansas City Symphony, Ojai Music Festival and the National Flute Association. Consistently praised for her strong work ethic, positive attitude, creativity, and ingenuity, she has been performing and playing for 15 years. Wilmsen currently studies with Jennie Oh Brown.