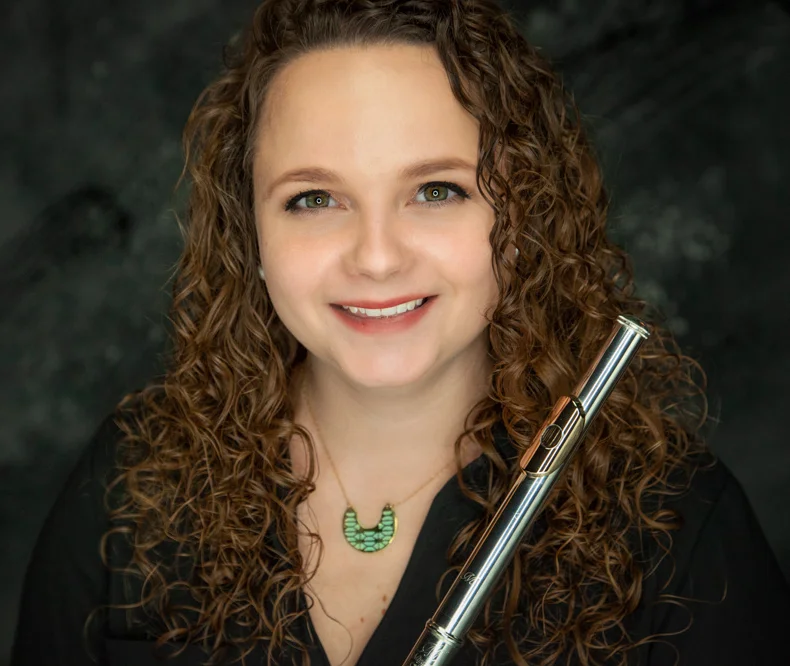 International prize-winning flutist Rose Bishop serves as Instructor of Flute at St. Ambrose University, Coe College, Cornell College, and Kirkwood Community College. An active orchestral musician, she serves as Principal Flute of the Southeast Iowa Symphony Quincy Symphony Orchestras and Second Flute/Piccolo with the Ottumwa Symphony Orchestra, and has performed with Orchestra Iowa, the Dubuque Symphony, the Battle Creek Symphony Orchestra, among others.
A highly sought-after guest artist, Bishop has appeared as a guest soloist with ensembles including the Southeast Iowa Symphony Orchestra and numerous university and municipal bands, in addition to enjoying various guest artist residencies at universities throughout the nation. An active clinician, Bishop has performed, lectured, and presented at events including the National Flute Association Convention, the Kansas Wesleyan International Music Festival, Upper Midwest Flute Association Festival, Iowa Flute Festival, Wisconsin Flute Festival, Portland Flute Society, the St. Louis Flute Fair, to name a few.
Rose Bishop recently released her solo debut album, Diversions, of solo flute repertoire that she either commissioned during the beginning of the Covid-19 pandemic, or performed as part of her residency with the Southeast Iowa Symphony Orchestra in October, 2021. This album features compositions by all living female composers, and includes works by Amber Beams, Nicole Chamberlain, Linda Robbins Coleman, and Lisa Neher.
Dedicated to community outreach, Bishop is the Flute Faculty, Founder and Artistic Director of the Eastern Iowa Flute Workshop and the Cornell College Summer Flute Camp, and is a frequent contributor to Flute Talk, the Flute View, the Flutist Quarterly and the Flute Examiner Magazines. Bishop serves as a member of the National Flute Association's Career and Artistic Development Committee and is a Trevor James Alto Flute Artist. Rose and Lizzy Darling are co-authors of A Flutist's Guide to the Voxman Etudes, a pedagogical text and supplementary recordings of Voxman's Selected Studies for Flute. www.rosebishopflute.com
Website – Facebook, Instagram, Twitter: @rosebishopflute