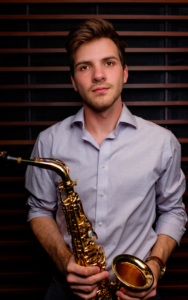 Richard Brasseale is a saxophonist, composer, and educator in the Chicago area.
An acclaimed saxophonist, he has played with numerous ensembles, including the Milwaukee Symphony, Madison Symphony, Fulcrum Point New Music Ensemble, Camerata Chicago, Civic Orchestra of Chicago, and others. Recent solo performances include the DePaul Symphony Orchestra, North Park Orchestra, and various recitals in Alabama, Illinois, Wisconsin, and Arizona. He has performed in the Spahlinger Festival, EAR TAXI Festival, Brevard Music Festival, and Terry Riley's 80th Birthday Concert.
A versatile composer, he has scored films that have appeared in the Queer Bits Film Festival, the Cleveland International Film Festival, and the DePaul Premiere Film Festival. He has also written music for various Second City sketch shows. He recently released an ambient, instrumental album, Boyfriend Songs, available on all streaming platforms. His piece The Hardest Part was a finalist for the National Saxophone Museum's Creative Saxophone Expression Prize. He premiered his piece, On Coming Out, at the 2020 North American Saxophone Alliance Conference in Tempe, Arizona.
He currently teaches Applied Classical Saxophone Instruction and Chamber Music classes at North Park University, where he recently was awarded a NETVUE Grant for Development in Vocation. He also teaches at the Chicago Academy of the Arts. He is a Studio Advisor at the Vandoren Chicago Studio. He is also the Production Manager of Twickenham Fest, a chamber music festival in his hometown of Huntsville, Alabama that brings in top-level classical musicians from around the world.
He received his master's and bachelor's degrees in Saxophone Performance from DePaul University, where he won both the Wind Symphony and the Symphony Orchestra Concerto Competitions. He has also been to Brevard Music Festival, where he was a fellow of the ITCH New Music Ensemble and performed with the symphonies there. His primary teachers include Jeremy Ruthrauff, Susan Cook, and Joe Lulloff. In his free time, Richard enjoys hiking, running, coffee, buying way too many houseplants, and being an expert four-leaf clover finder.