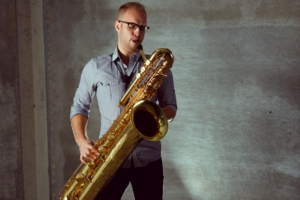 "…Zoulek's performance, on saxophones in every range, is stunningly virtuosic, whatever the genre…none of this would matter much (except to saxophonists) if he were a less imaginative composer." (The Wall Street Journal). A modern saxophonist of "pure mindfulness and talent" (PopMatters), Nick Zoulek's artistry as a performer, collaborator, composer, and media artist has led to a diverse portfolio of distinctive artistic ventures.
As a soloist, Nick's craft has been lauded as "wickedly contagious" (The Huffington Post) with the capacity to "[take] you to other worlds" (Milwaukee Magazine). The versatility Nick displays on the saxophone has been praised as "[b]eautiful harmonies [singing] in contrast to mysterious knockings and hums, and finally to ungodly, soul-shattering blasts" (Shepherd Express). Bringing together diverse musical landscapes, Nick's performances traverse genre by bringing together classical, jazz, experimental, and rock idioms. He has garnered numerous awards as a classical soloist and has been featured in concerti with the University of Wisconsin Whitewater Symphonic Wind Ensemble and Symphony Orchestra, the University of Wisconsin Eau Claire Wind Ensemble, and the Boulogne Ensemble du Vent. Committed to advancing idiomatic repertoire for the saxophone, Nick regularly commissions and premieres new works for saxophone, most recently by Martin Bresnick, Baldwin Giang, Aaron Kernis, Emma O'Halloran, Shelley Washington, and many more. Nick often performs as a visiting guest artist at universities across the United States, most recently as a featured artist at the Treefort Indie Music Festival, the Shockingly Modern Saxophone Festival and as the year-long Artist in Residence for the University of Wisconsin-Milwaukee SENSORIA series. As a chamber musician, Nick is a member of the Canadian/American saxophone group Duo d'Entre-Deux and the Coalescent Quartet, adding to a roster of collaborations with new music ensembles like Eighth Blackbird, Third Coast Percussion, ~Nois, and Juxtatonal. Nick's music can be heard on Rushing Past Willow (INNOVA Records), which fuses all of facets of his work through self-composed pieces for alto, tenor, and bass saxophone.
As an interdisciplinary artist, Nick is "a no-holds-barred engine of avant-garde exploration," (Portland Press Herald). Currently, Nick is working on his second album project, Enter Branch, which will combine his performance and compositions with cross-genre musicians including Sean Carey (S. Carey, Bon Iver), Nathalie Joachim, Nick Photinos, Chris Porterfield (Field Report), ~Nois saxophone quartet, the Tontine Ensemble, and more. His collaborative spirit often branches into other art forms. Nick has served as music director and frequent soloist with Wild Space Dance Company and has composed and performed for the Madison Ballet, HYPERlocal, Zenon, and Like You Mean It dance companies. Nick often works with film, animation, and video games, experimenting with the expressive potential of visual media, including compositions for the hit videogame Red Dead Redemption 2 and the ski-video company Legs of Steel. A videographer in his own right, Nick's films build upon his own compositions and have been screened at festivals in England, Canada, Serbia, Africa, and around the United States. His visual works have garnered numerous awards, including Best Experimental Film from the London Modcon International Film Festival and Largo Film Festival. Outside of narrative film, Nick works closely with musicians and artists across the midwest to help realize their visual productions. His media work has been featured with New Music USA, I CARE IF YOU LISTEN, The Huffington Post, Modern Luxury Magazine, and The Chicago Tribune, and has received support from the National Endowment for the Arts, the Canadian Arts Council.
Nick maintains an active profile researching the saxophone's role in contemporary classical music, presenting on contemporary aesthetics and saxophone performance. His dissertation, Analyzing the Intersections of Saxophone and Digital Media Through Media Theory, expands upon the analytical dialogue of musical multimedia. Nick has served on faculty at the University of Wisconsin-Whitewater and Oakland University teaching saxophone and jazz studies courses, with additional appointments at Ashland University and Bowling Green State University. He holds a Doctor of Musical Arts degree in Contemporary Music Performance with a cognate in Digital Media from Bowling Green State University. Additionally, Nick holds a Master of Music Performance from BGSU, a Certificat des Études Musicales from the Conservatoire à Rayonnement Régionale de Boulogne-Billancourt, and a Bachelor of Music Performance with Magna Cum Laude honors from the University of Wisconsin-Whitewater. He has previously learned with Dr. John Sampen, Jean-Michel Goury, Dr. Matthew Sintchak, and Dr. Jon Amon. For more information on his music, please visit www.nickzoulek.com, and for his media portfolio, www.nzmedia.net.