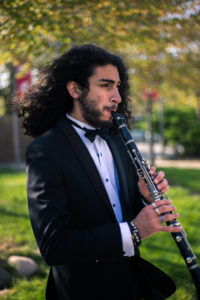 Abdo Timejardine-Zomeño is a Chicago-based clarinetist, woodwind doubler, composer, and arranger. He is currently earning a double degree in Clarinet Performance and Mechanical Engineering at the University of Illinois at Chicago. His on campus ensemble participation includes performing in the UIC Wind Ensemble, Orchestra, Pep Band, as well as various chamber music ensembles. Abdo's primary teachers include Nicholas Carlson, Lauren Moldenhauer, Liza Calisesi Maidens, Jordan Lulloff, Marc Mellits, and Jonathan Villela.
Abdo is an active member of Lakeside Pride Music Ensembles, Chicago's premiere family of LGBTQ+ performance groups. He serves as the Public Relations Officer, and is a performer in the Symphonic Band, Marching Band, and Latin Band. Other performance opportunities have included the organization's Clarinet Choir, and Saxophone Ensemble. He is also a member of the Middle East Music Ensemble at the University of Chicago and has performed with professional wind bands and orchestras such as The Naperville Winds, Northshore Concert Band, and Chicago Philharmonic, where he has performed under the batons of Sean Kelley, Mallory Thompson, and Scott Speck.
As a composer, Abdo's works have been played by members of ~Nois, Third Coast Percussion, and New Music Chicago. He is a composer of wind band, orchestra, chamber, and solo instrumental music. He aims to explore the intersectionality of both western and Middle Eastern traditions, and his training in both western classical and the Arabic maqam modal system has helped form an enriched understanding of compositional techniques he hopes performers will enjoy. His compositional influences include David Maslanka, Viet Cuong, Omar Thomas, Jennifer Jolley, Hilary Purrington, Wang Jie, Steven Bryant, and John Mackey. Abdo seeks to expand the classical music canon and bring forth the playing of underrepresented composers, which he hopes to do with his own compositions and through collaboration with other composers that speak beyond the canon.
@artistic.abdo on Instagram & SoundCloud