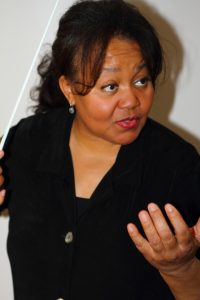 Renèe Baker has been at the extreme forefront of creative/avant garde music whiledeveloping this unique ensemble since 1991. Utilizing some of the finest musicians that cross the classical world as well as jazz greates, she has crafted a group of the best traditionalists and married them to dedicated improvisors. A true genre bending experience- her skills as a conductor and musician coordinator have been used by some of the finest musical organizaitons in Chicago.
Ms. Baker is also the Artistic Director of the Chicago Sinfonietta Chamber Ensemble as well as Mantra Blue Free Orchestra. As an improvisor,Renèe has performed and recorded with Nicole Mitchell's Black Earth Stringa, Karl E. H. Seigfried's New Quartet and Galaxy String Quartet, the David Boykin Expanse, Orbert Davis, George Lewis, Mwata Bowden, the Great Black Music Ensemble, the Chicago Jazz Philharmonic and the Chicago Jazz Orchestra. She is a member of the Chamber of the AACM, Association for the Advancement of Creative Musicians. In recent years, Renèe has premiered original compositions with the Chicago Sinfonietta, The Joffrey Ballet Chamber Series, and as part of the PionoForte Salon Series and the Umbria Jazz Festival (Italy.) Future collaborations will include MCA (Museum of Contemporary Art), Chiago Architecture Foundation, South Shore Cultural Center, among others.
Renèe is Principal Violinist of the Internationally renowned Chicago Sinfonietta; she has worked with the orchestra since its founding in 1987. She has been a participant in many international music festivals includign Classical Music Festival (Eisenstadt, Austria), and Philomusica di Chicago (Martigues, France.) She has performed extensively throughout Africa, Asia and Europe.
Her debut at the prestigious Ravinia Festival was as the viola soloist for "Don Quixote" (Strauss), in which she partnered with John Sharp, Principal Cellist of the Chicago Symphony Orchestra. She has performed numerous solo recitals at venues such as the Chicago Cultural Center, and she has been a featured performer with many chamber music ensembles, including her own FAQtet – an ensemble that primarily performs classical repertoire by African-American composers. CMOP represents her debut as a conductor and composer-in-residence of this new music ensemble.