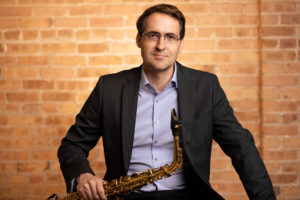 Amos Gillespie's music has been heard on WFMT in Chicago, WQXR in New York City and PBS. His music spans a wide range of genres including chamber and orchestra concert music, jazz, as well as music for film, theater and dance. His music has been commissioned and performed by the International Contemporary Ensemble (ICE), Atlantic Music Festival Contemporary Ensemble, Third Millennium Ensemble, Eclipse Theater, Barkada Saxophone Quartet, Chicago Q Ensemble, Access Contemporary Music (ACM) and the Chicago Composers Orchestra among many others.
Amos' music has been heard at various venues and Festivals around the world including the Preston Bradley Hall Sunday Salon Series, Atlantic Music Festival, Illinois Musicians Festival at Grant Park, North American Saxophone Alliance Conference, Old Synagogue chamber music series in Mainz Germany, An Die Musik in Baltimore MD, Music Institute of Chicago, Court Theatre and the Green Mill among others.
Amos has received special recognition and finalist awards from ASCAP, League of Composers (ISCM), American Prize, Columbia Orchestra, the Macarthur Foundation and the Illinois Arts Council, and has won numerous grants including the 2013 IAS professional development grant through the Illinois Arts Council, a Lucerne fellowship through the Chicago sister cities program and the Swiss benevolent society, as well as the 2008 Evanston Cultural Arts Grant and several Chicago Community Arts Assistance Program Grants (CAAP).
Amos recently had his work "Jasper Johns" featured on Lisa Flynn's WFMT program, "New Releases;" and music he wrote for "1001 Afternoons in Chicago: a radio play" was performed in Kerry Frumkin's "Live from WFMT" by the Palomar Ensemble and Strawdog Theatre; David Less's documentary on the same piece was recently featured on PBS. Amos also recently celebrated the release of the album "Paintings Composed" with his chamber ensemble, the Gillespie Chamber Quartet.
As a saxophonist Amos has performed with New Millennium Orchestra, Access Contemporary Music (ACM), Hard Art Groop, Chicago Composers Forum, MAVerick ensemble, Jedlicka Performing Arts Center, VOX 3 Vocal Collective, Hiz Film studio Productions and the Alvarez Orchestra among others.
Amos has taught music theory at Chicago State University, the Peoples Music School in Chicago and the Schaumburg Academy of Music. He currently teaches Piano and Saxophone at the Devonshire Cultural Center in Skokie, as well as the Menomonee Club in Chicago. He also substitute teaches at Chi-Arts, Chicago's Fine Arts High School. He has served on the board with New Music Chicago for three years and is an active contributing member with Access Contemporary Music. He received a Master's degree in composition from the Chicago College of Performing Arts at Roosevelt University and a Bachelor's degree in Saxophone performance from Northern Arizona University.