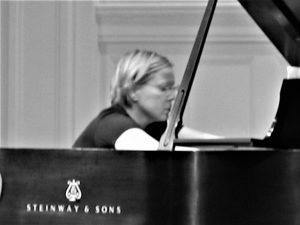 Dr. Marie Alatalo has appeared in concerts throughout the United States and Japan, capturing attention with a repertoire embracing both classical and contemporary literature. She has been heard in such popular Chicago venues as the Chicago Cultural Center, Mayne Stage, Pianoforte, Music Institute of Chicago, WFMT radio, Pick Staiger Concert Hall, Mostly Music Chicago concert series, Driehaus Museum, People's Music School and Cliff Dwellers Club.
Alatalo's diverse interests have led her to a multi-faceted performance career. Her involvement with 20/21 st century music brought her to the Chautauqua Institution (NY), where she presented a lecture-recital on George Crumb's "Five Pieces for Piano". She was coached by George Crumb during the Music Institute of Chicago's "George Crumb Project", and performed both "Five Pieces for Piano" and "Eleven Echoes of Autumn".
Her performance of "Makrokosmos, Book 1", was featured on "Music on Madison" at the The Musical Offering in Evanston. She has been soloist with the Eastman Wind Ensemble, performing Michael Torke's "Rust" and Joseph Schwantner's "… and the mountains rising nowhere". She collaborated with a piano quartet to give the Chicago premiere of Lee Hoiby's "Dark Rosaleen", and recorded John Adams' "Hallelujah Junction" under a grant from MTNA. She has been the pianist for the Eastman School of Music Musica Nova Ensemble can be heard with the Eastman Wind Ensemble on the Sony release, "Live in Osaka", recorded during a tour of Japan. Extending her performances beyond the concert hall, she presented programs in conjunction with various art openings at the Cliff Dwellers Club, where she was Artist-in- Residence, and in the theater, when she designed and performed music for the AKA Rachel Production of the female monologue comedy revue, "The Bridesmaids".
Her first CD of solo piano music, "Sonatas", features examples of the genre from Scarlatti through Prokofiev. This was followed by a CD of the complete Chopin Preludes, funded by a grant from the Illinois Arts Council, and a third CD, which includes pieces by American composers. Alatalo has received numerous awards and competition prizes, including two Community Arts Assistance Program Grants (Chicago), and fellowships to the Eastman School of Music and the Chautauqua Institution. She is listed in "Two Thousand Notable American Women", and in the "World's Who's Who of Women".
In addition to performing, Dr. Alatalo has produced concerts in Chicago and the surrounding areas. She co-founded and held the position of Artistic Director Batavia Classics, which presented and promoted both established and emerging artists, including the Vermeer Quartet and members of the Chicago Symphony Orchestra. She was Managing and Artistic Director for Mostly Music Chicago, where she expanded the series to bring chamber music to the Driehaus Museum and Charles Dawes House (Evanston). Her current position of Executive Director for the Emilio del Rosario Music Foundation allows her to participate in the production of piano concerto competitions, giving extraordinary young pianists the opportunity to showcase their talent.
As an educator, Alatalo lectures, writes, and teaches. She was the Music Lecturer on board the "River Countess", a river boat which sails from Budapest to Amsterdam and has presented lecture recitals for both regional and state divisions of MTNA. She has both written for and been the subject of articles published by "Clavier" magazine. Alatalo is frequently called to adjudicate piano competitions, including the Chautauqua International Piano Competition, Emilio del Rosario Concerto Competition, Society of American Musicians, Interlochen Arts Camp Concerto Competition, and numerous local and regional contests. She is member of the College of Examiners at the Royal Conservatory of Music, and is recognized by the Conservatory as a Founding Teacher in the US.
Alatalo was raised in the Upper Peninsula of Michigan, graduated from the Interlochen Arts Academy and the University of Michigan, and earned the Doctor of Musical Arts degree from the Eastman School of Music, where she was Teaching Assistant to Rebecca Penneys. She is a former faculty member of the Interlochen Arts Camp and Cazadero Performing Arts Camp in California. She currently teaches in her studio in Evanston and at the Music Institute of Chicago.