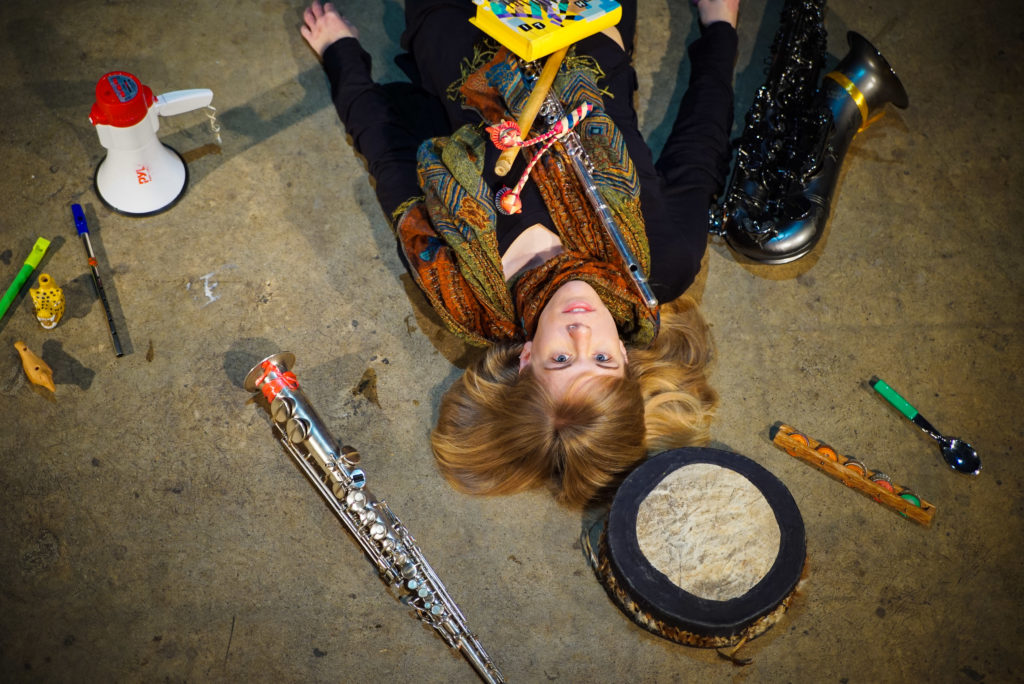 Molly Jones' practice incorporates improvisation, composition, and multimedia performance with saxophones, flutes, and electronic samples. Her work originates in a place of playfulness, listening, and attention.
Formed by her experiences in jazz, classical, Balkan brass, and Scottish country dance/contradance ensembles, and by her fascination with found sounds, she has created chamber works, graphic scores, electroacoustic pieces, experimental theater works, and video installations, in addition to maintaining an active improvisational practice.  She performs with Chicago improvising quartet Mad Myth Science.
She has been commissioned by organizations including the Detroit Composers' Project, Detroit Fringe theater festival, Threeform, Verdant Vibes, and Carrie Morris Arts Productions, and has performed with artists including Saul Williams, Nicole Mitchell, Robert Ashley, Tyshawn Sorey, Jaribu Shahid, Ed Sarath, Kei Akagi, Alex Harding, Paul de Jong, Wadada Leo Smith, Andrew Bishop, Douglas Ewart, Joo Won Park, Elliott Sharp, Cheick Hamala Diabate, Marion Hayden, Matt Kiroff, and Angel Bat Dawid, along with many other friends and colleagues in Detroit and Chicago. In 2019, she premiered a collaborative multimedia opera Acting On Air featuring choreography, animation, text, electronic music, and an ensemble with all levels of experience. Her 2017 free jazz album Microliths was nominated for Debut Album of 2017 in NPR's Jazz Critics' Poll, and she was nominated for a 2020 Detroit Music Award. Her poetry can be found in Saul Williams' Chorus: A Literary Mixtape and Matchbox Magazine. She works as a software engineer and is currently developing a neural network instrument and maintaining a found-sound recording practice.
She received a B.F.A. in Jazz and Contemplative Studies from the University of Michigan and an M.F.A. in Integrated Composition, Improvisation, and Technology (ICIT) from the University of California, Irvine, studying with mentors Nicole Mitchell and Kei Akagi.
"[Molly] has a total understanding of both acoustic and electronic sounds." -Joo Won Park