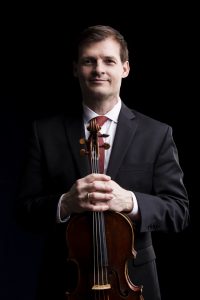 Michael Hall, viola, lives in Chicago and is an internationally recognized soloist, teacher, and
thought leader. Described by the New Music Connoisseur as "utterly masterful," and Chamber
Music Today as having "superb technique," he has over 50 compositions written for him. In
addition to his performance activities, Michael is a board member of the American Viola Society
and Co-Founder/Artistic Director/Director of Education of the Bandung Philharmonic – the first
professional orchestra in Indonesia.
As a soloist, Michael has appeared in Vienna, Jakarta, Reykjavik, Bangkok, Los Angeles, Bali,
New York City, Singapore, Boston, Sorrento and Chicago's Orchestra Hall. Michael has also
given the world premieres of viola concertos by Kim Diehnelt and Alfred Schnittke, and US
premieres of concertos by Stacy Garrop and Chen Yi's "Xian Shi"– the first viola concerto
written by a Chinese composer.
In addition, Michael gave the Asian premieres of works by Ellott Carter, Zhou Long, Andrea Clearfield, Stephen Paulus, Shulamit Ran, Nico Muhly, and Sarah Kirkland Snider. Featured performances at festivals include the New Music Gathering, Primrose International Festival at the Colburn School, Concerti Cucomella in Italy, Shpachenko Chamber Music Festival, Thailand International Composition Festival, Ear Taxi Festival, Bach In Bali Festival, Philadelphia Salon Seres, Constellation's Frequency Series, University of Missouri Kansas City Summer Composition Workshop, Now Musique Concert Series in Boston, Vianden Festival in Luxembourg, the Bowling Green New Music Festival and the American Viola Festival in
Oberlin.
Michael has performed live on NPR, WFMT, and Thailand PBS-TV, and his recordings can be found on the Centaur, Delos, Vienna Modern Masters, Acoma, Albany and Parma labels. International cooperation and understanding play a significant role in Michael's collaborations. In addition to working with composers to bring attention to events in Iran, Syria, Albania, Armenia, and Thailand, his role in the Bandung Philharmonic helps to create a model for collaboration between the US and Indonesia – the largest Islamic majority country in the world. Michael has used music to help support women shelters, create libraries in villages in Indonesia, and create pen pal programs between students in Indonesia and public schools on Chicago's
South Side.
Upcoming solo appearances include concerts and residencies in New York, Los Angeles, Boston, Green Bay, Jakarta, Singapore, Yellowstone National Park, and Bali. Futures premieres include works written by Antonio Celso Ribeiro, Francine Trester, Evan Williams, Fauzie Wiriadisastra, D. J. Sparr, Jennifer Jolley, and Katherine Bergman.
Works written for Michael include pieces by Eric Moe, Mary Kouyoumdjian, Jim Mobberley, Sharon Hartanto (Indonesia), Narong Prangcharoen (Thailand), Garrett Schumann, Arshia Samsaminia (Iran), Marta Ptaszynska (Poland), Mara Gibson, Rob Deemer, Adam Greene, Michelle McQuade Dewhirst, Tony Manfredonia,, Seth Boustead, Fauzie Wiriadisastra (Indonesia), France Trester, Kee Yong Chong (Malaysia), Ilya Levinson, Eric Malmquist, Yu Pengfei (China), and Antonio Celso Ribeiro (Brazil).
Michael received his DMA from the University of North Carolina Greensboro, where he was recently awarded the Distinguished Alumni Award. Michael received his BM and an Alumni Achievement Award from Ball State University, and received his MM from the University of Cincinnati College-Conservatory of Music. His teachers include Michelle LaCourse, Scott
Rawls, Linda Geeidel, Bernard Zaslav, Peter Kamnitzer, as well as the LaSalle and Tokyo string
quartets.
He lives in Chicago with his wife and two daughters, love dark chocolate, hiking the Wind River Mountains, and empowering communities through creativity. Michael plays on a viola made by Ferruccio Varagnola.