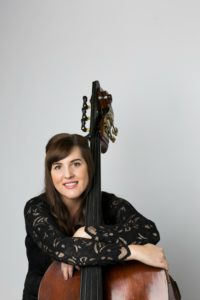 With over ten years of experience in arts administration, music, and education, Jessica Wolfe thrives in connecting communities through the transformative power of shared musical experiences. Presently, she serves as the Director of Production and Education at the University of Chicago Presents where she produces classical, jazz, early music, contemporary, and world music concert series and manages a range of educational programs. Jessica is excited to serve in the role of Managing Director for New Music Chicago's Ear Taxi 2020 and looks forward to celebrating the amazing musical identity and community of Chicago.
From 2015-2019, Jessica served as the Managing Director of Fifth House Ensemble where she enjoyed developing successful partnerships with community organizations, presenters, and collaborators, increasing international visibility through booking management, and creating innovative concert programs that engage diverse audiences. During her tenure, she managed the development of eight series programs, most recently managing the creation of a cross-genre collaborative program with the internationally acclaimed Tuvan throat singers, Alash.
Serving as an arts ambassador, Jessica completed a Civic Fellowship with the Civic Orchestra of Chicago in 2016, where she implemented projects in communities not previously connected to the arts. In particular, Jessica led a team of fellows in acquiring funding to design, implement, and evaluate the first live music program for Easterseals Metropolitan Chicago, an Autism Spectrum Disorder Resource Center.
Jessica also enjoys serving as co-director and board member of Unsupervised, Chicago's member-organized conductorless orchestra whose mission is to build a community beyond the music, where she manages production of the orchestra's performances.
Jessica is a graduate of the Eastman School of Music, DePaul University, and the 2018 Young Nonprofit Professionals Network Leadership Institute.