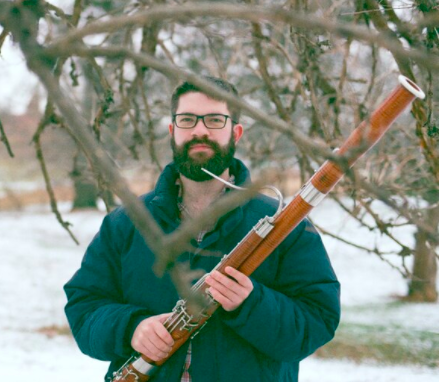 Ben Roidl-Ward is the bassoonist of Ensemble Dal Niente and Assistant Professor of Bassoon at the University of Northern Iowa. He also holds positions as a Contemporary Leader for the Lucerne Festival and as the second bassoonist of the Illinois Symphony. Ben's dedication to working with and advocating for composers of his generation has led him to commission and premiere numerous solo and chamber works featuring the bassoon with the goal of broadening the repertoire and expanding the possibilities of the instrument.

Ben has appeared as a soloist with the Seattle Symphony and the Northwestern and Oberlin Contemporary Music Ensembles, along with several regional orchestras throughout the United States. He has performed with the International Contemporary Ensemble, the Spektral Quartet, the Chicago Symphony, and the New York Philharmonic, among others. His festival appearances include the Donaueschingen, Lucerne, Mostly Mozart, Ravinia, Tanglewood, Spoleto, and Banff Festivals.

A 2018 Luminarts Fellow in Classical Music, Ben was one of five finalists for the International Double Reed Society's 2020 Gillet-Fox Competition. In addition to teaching at UNI, he teaches at the North Carolina Governor's School in the summer and serves as a Mentor for the Chicago Musical Pathways Initiative.

Ben received his DMA from Northwestern University, where he studied with David McGill. His dissertation focused on the bassoon's multiphonics and methods of notating them. His previous teachers include Ben Kamins at Rice University, George Sakakeeny at the Oberlin Conservatory, and Francine Peterson in the Seattle area.