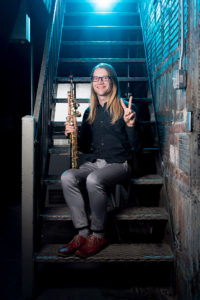 Phil Pierick is a saxophonist, improviser, singer, and educator based in Chicago. Equally at home performing a range of music from Renaissance motets to 21st-century works, he has been described as "the Swiss Army knife of saxophonists." As a soloist and member of the saxophone duo Ogni Suono, he has performed over a hundred recitals worldwide, including teaching engagements at many of America's leading university music programs. Classically trained and experimentally minded, Phil is dedicated to championing the diverse body of vibrant works written for the saxophone in the past century. An emphatic advocate for music by living composers, Phil has commissioned more than twenty-five new works and presented over fifty premieres throughout Europe, North America, Taiwan, Japan, and Singapore. Recent recording projects include an album of previously unreleased chamber music for saxophone by Percy Grainger (Naxos), an entry in the Stockhausen Verlag's complete discography of Karlheinz Stockhausen, and SaxoVoce (New Focus), an album of new music composed for Ogni Suono. I CARE IF YOU LISTEN describes SaxoVoce as "a tour de force of new possibilities for saxophone and voice, providing a blueprint for the creation of future saxophone duo repertoire." Phil regularly collaborates with pianist Kurt Eric Galván, presenting both classical repertoire and new commissions supported by New Music USA. An active concerto soloist, he has performed with the Eastman Wind Ensemble, University of Illinois' Wind Symphony and Symphony Orchestra, the Slovenian Armed Forces Band, and Taiwan-based MIT. Phil is also a tenor at Chicago's historic Fourth Presbyterian Church.
The only prizewinner at both the Jean-Marie Londeix International Saxophone Competition (2014) and the ISSAC International Saxophone Competition (2012), Phil is also a three-time prizewinner at the MTNA National Young Artist and Chamber Music Competitions (2009, 2011, 2012), and was named Vandoren Emerging Artist of 2011. He received Eastman School of Music's 2014 Teaching Assistant Prize for chamber music instruction. Phil maintains a private studio in Chicago and aims to foster the internal curiosity and creativity of students, cultivating their individual musical interests and goals. Guest teaching has taken him to the Allerton Chamber Music Symposium, Illinois Summer Youth Music, and nearly fifty universities and conferences around the world. He was previously on faculty at the College of Wooster. His students have taken first prize in the MTNA National Chamber Music (2016, 2014) and 198th Army Band Small Ensemble (2015, 2013) competitions, and have been semi-finalists in the ISSAC International Saxophone Competition (2013).
Phil holds a Doctor of Musical Arts degree from the Eastman School of Music, where he served as teaching assistant to Chien-Kwan Lin and was awarded both the Performer's Certificate and Arts Leadership Program Certificate. As a 2014-2015 Fulbright Scholar, he studied contemporary performance practice in Vienna with Lars Mlekusch, presenting contemporary music concerts in unexpected locations. He holds Bachelor and Master of Music degrees from the University of Illinois at Urbana-Champaign, where he studied with Debra Richtmeyer and held the position of saxophone teaching assistant. Phil also studied in Paris with Jean-Michel Goury as a recipient of the 2009 Frank Huntington Beebe Fund for Musicians.
Phil is a Vandoren Artist.