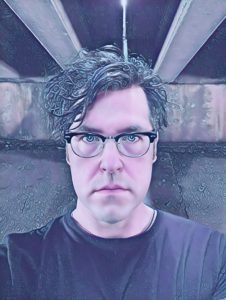 Rosśa Crean (they/them) jokingly says they "create music that they like to listen to when they are by themself, eating raw cookie dough in a dark closet," but in truth, their music has been referred to as being "funny…and virtuosic" (Classical Concert Nova Scotia), having "exceptionally different, outstanding quality" (Download), and music that "stirs you deep, undertones of humanity" (Access Contemporary Music). Composing and creating music with a focus on the evocative and lyrical, they began their professional career as a Bass-Baritone, specializing in avant-garde and Contemporary Classical music, many of which were their own compositions. While pursuing their Masters at Illinois State University in Composition, they have studied with Stephen Taylor, David Feurzeig, and Nancy Van de Rate. They have trained in several vocal styles, including rock, opera, sean-nós (traditional Gaelic singing), and Indian and Middle Eastern vocal ornamentation.
As a person with synesthesia, Crean occasionally creates projects that focus on their own neurological responses between sound, color, and emotional states. Their chromesthesia was a creative tool in the creation of the Edward Gorey partnering art installation entitled, "Summerland: A Ghost Story," a collaboration with visual artist Ken Gerleve. It has most recently been featured in their American Prize winning opera, "The Great God Pan," where the prepared piano was notated with specific color designations for each note of a pitch class Crean saw as representing the other world that threatened the moral existence of humanity in the original story on which it was based. Their one-act opera, "The Times Are Nightfall," a queer sequel to "Don Giovanni," premiered at Opera America in July 2018. Their most recent commission, "The Piestess of Morphine," a monodrama in song cycle style, was commissioned and premiered by the International Museum of Surgical Science in Chicago in June 2019, and will be released as a recording with Navona/Naxos Records in 2021. Rosśa's most recent opera, "The Harbingers," an a cappella performance about several harbingers of death convening on Halloween night to decide the fate of a recently-departed soul, premiered on Halloween Night 2019 at Rosehill Cemetery in Chicago.
A prolific collaborator, Crean has received commissions from and worked with numerous artists, including The Mozart Players at Oberlin College, the International Museum of Surgical Science, clarinetist Andrew Hudson, bassist Gahlord Dewald, The New Consort, Loyola University Museum of Art, and the Lynx Project. Their musical work has also been featured on Skope TV, Much Music, Fuse TV, and Comcast OnDemand.
A staunch advocate for queer and gender equality, Rosśa founded the "Rosśa Crean Presents" performance series in Chicago, Illinois, which showcases emerging BIPOC and LGBTQIA+ composers and performers. For more information on Rosśa and their work, please go to www.rossacrean.com.
Follow Rosśa on social media: