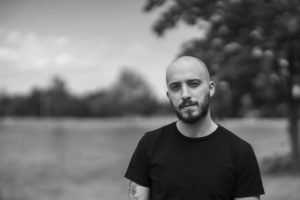 As a collaborative composer, Adam Kennaugh believes honest and powerful music is created through open communication and genuine back-and-forth of ideas between performer and composer. He centers each work around the preferred musical techniques and concepts of the performers, fusing their technical and expressive prowess with his musical language, which exists in the space between pitch and noise. 
His music emphasizes the characteristic features of an instrument by investigating the mechanisms that produce a sound. Through this, he combines microtones with sound-based techniques, reflecting the unpredictability of everyday life. By creating distinctive works that integrate as a contemplative, immersive experience, his goal is to enhance the quality and diversity of repertoire for performers, elevating them as an ambassador of 21st-century music. .
In June 2020, Adam collaborated with flutist Natalie Magaña on Approaching Cyrrhus for her YouTube performance, …in all but name… As collaborators, they explored the juxtaposition of manipulating the embouchure and positioning of the flute with air sounds and oscillating techniques like tremolo and microtonal trills. Currently, he is working on several projects involving the saxophone, including a new 12-minute work for the saxophone ensemble Bia Duo, and two projects with saxophonist and long-time collaborator James Besaw: a multi-movement piece for alto saxophone displaying the flexibility of the instrument, and a Book of Etudes concerning extended techniques for saxophone. 
He has had the fortune of working with many exceptional ensembles and performers, including Boston-based Departure Duo, saxophone and trombone duo Wind Collision, Ensemble Interface, Segetem Saxophone Quartet, NA Ensemble, and often collaborating with saxophonists, namely James Besaw and Caleb Burkhardt, and flutist Natalie Magaña. Recent performances have taken place throughout the country, in cities like NYC, Philadelphia, Boston, Northeastern and Midwestern United States, and festivals like the New Music Gathering, Nief-Norf Summer Festival, Valencia International Performance Academy of Music in Valencia, Spain, and an upcoming performance at Festival Contrasti in Trento, Italy. 
Adam has received music degrees from several universities studying with composers Elainie Lillios, Marilyn Shrude, Christopher Dietz, and Mikel Kuehn at Bowling Green State University; Marcos Balter, Elizabeth Brown, Ting Ho, Scott Richards, and Robert Aldridge at Montclair State University; and Jose Bevia at the County College of Morris. Adam lives in Chicago, IL with his girlfriend, oboist Ava Wirth.