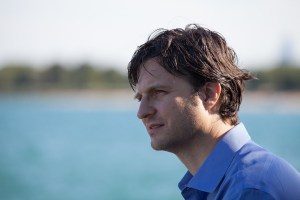 CELEBRATED FOR COMPOSITIONS THAT ARE EMOTIONALLY-CHARGED AND VISCERALLY-ENGAGING, COMPOSER MISCHA ZUPKO WRITES MUSIC THAT EXCITES BOTH MUSICIANS AND AUDIENCES
Working collaboratively with other great musical minds, his body of work is intensely virtuosic and bracing in its vision and scope. In the words of Chicago Tribune critic John von Rhein, Zupko's piano concerto Fahrenheit was"…a powerhouse of the evening" and Classical Voice North America describes the music as "…harrowing and gripping".  New York Times critic Anthony Tommasini proclaims Zupko's Five Etudes for Piano "…Liszt-like in their florid generosity" and the Los Angeles Times has hailed his compositions as "Engaging". The press has praised his orchestral works citing "orchestration [that is] nothing less than stunning" and a "considerable command of instrumentation and orchestral color". He was the 2010-2011 composer-in-residence with the Fulcrum Point New Music Project based in Chicago and was featured in a cover story of the Chicago Readerfor his compositional activities in the Chicagoland area.
Mr. Zupko's works have been championed, commissioned and premiered by leading U.S. orchestras and chamber groups including the Minnesota Orchestra, the Aspen Contemporary Ensemble, Fulcrum Point New Music Project, American Modern Ensemble, Eighth Blackbird, Corigliano Quartet, Lincoln Trio and members of the Chicago Symphony Orchestra as well as members of the Kronos, Vermeer and Pacifica Quartets.
Mr. Zupko's commissions include those from the Minnesota Orchestra the Pacific Symphony, Camerata Chicago chamber orchestra, The Fulcrum Point New Music Project, the St. Olaf Band, the Gilmore International Keyboard Festival, the Michigan Youth Arts Festival, the Music Institute of Chicago and the New York Youth Symphony. He is also a recipient of grants from the Fromm Foundation and the Barlow Endowment. An avid proponent of virtuosity, Zupko has collaborated closely with such intrepid soloists as cellists Nicholas Photinos, Wendy Warner, and Jeffrey Ziegler, violinists Sang Mee Lee and Minghuan Xu, trumpeter Stephen Burns, pianists Winston Choi and Lori Simms, saxophonists Fredrick Hemke and Timothy McAllister, flutist Thomas Robertello, harpist Maria Luisa Rayan, and organists Doug Cleveland and David Schrader.
Mr. Zupko's numerous awards include first place in the Pacific Symphony Orchestra's American Composer's Competition, the Lee Ettelson Composers Award from Composers Inc., co-winner of the USA International Harp Competition Composition Contest, three ASCAP Morton Gould Young Composer Awards, including the first prize Kaplan Award, the First Music Award from the New York Youth Symphony, the Jacob Druckman Prize from the Aspen Music Festival and finalist in the Rome Prize Competition. In addition, Thirteen Ways of Looking at the Goldberg, a collective commissioning project from the Gilmore International Keyboard Festival to which Zupko contributed his Ghost Variation, was selected by the International Piano Awards as the 2007 winner in the Best Sheet Music – New Work Category.
Performances of Zupko's works have been featured at Carnegie Hall, Weill Hall, Merkin Hall, The Harris Theater of Music and Dance in Chicago, Ravinia, Minneapolis's Orchestra Hall, Segerstrom Hall at the Orange County Performing Arts Center, the Aspen Music Festival, the Moscow Conservatory, the Dame Myra Hess Series, the American Modern Ensemble concert series, Barge Music, Keys to the Future, Bang on a Can Summer Music Festival, the Gilmore International Keyboard Festival and have also been included in live broadcasts on KMZT (Los Angeles), WFMT (Chicago) and WCLV (Cleveland). Included among his live broadcasts are featured performances on Make Music Chicago, the daylong music festival modeled on Paris's Fete de la Musique. In addition, his works have been performed in numerous solo instrumental competitions, including the USA International Harp Competition, the Israel International Harp Competition and the Gaudeamus Interpreter's Competition. Several of Mr. Zupko's works have been recorded and are available on the Crystal, Innova, American Modern Recordings and ENF labels. He is currently recording a CD of his music for violin, cello and piano with violinist SangMee Lee and cellist Wendy Warner on Cedille Records.
An accomplished pianist, Zupko has performed in numerous venues playing his own works as well as the works of his colleagues and more standard literature. Citing a performance of his work Shunt for piano and electronics,Chicago Classical Review declared his performance "powerful" having "matched the electronics beat for beat in an episodic composition that fused science-fiction scoring with all kinds of electronic effects." Other performances include those with the Fulcrum Point New Music Project, violinist Mathias Tacke of the former Vermeer Quartet and members of the Lincoln Trio and Eighth Blackbird on the International Beethoven Project's Beethoven Festival 2012: Revolution.
A dedicated pedagogue, Mr. Zupko is on the faculty at DePaul University School of Music and has held a visiting position in Composition at Roosevelt's Chicago College of Performing Arts. In addition, he serves as the composer-in-residence at the Music Institute of Chicago and teaches at the prestigious Academy program on Ravinia's campus. He resides in Chicago with his wife, Minkyoo and son, Leo.