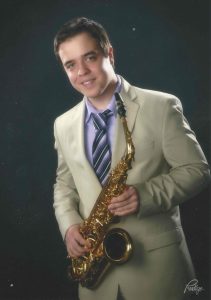 Born in 1997 in Vladivostok, Russia, Aleksandr Romunchkin was adopted at a mere 6 months old and brought to America by his parents Steve and Deborah. Later, Romunchkin became a U.S citizen through adoption and his name was changed to Matt Kubek.
Matt Kubek considers himself a Russian-American Saxophonist. Throughout his life, Matt has always been interested in the field of music. Whether it be composing, teaching, or performing, there is always something Matt can do to inspire and educate other musicians or future musicians.
Matt Kubek currently holds a Bachelor's Degree in Music Performance from Elmhurst College. Graduating in June of 2019, Matt's career in his undergraduate at Elmhurst has led to numerous accomplishments, honors and awards for his playing and musical ability.
Some of these accomplishments include; being the 3-Year winner of the Solo Honors Competition at Elmhurst College. 2018 and 2019 chosen as "Best Overall Performer", Performing with the (ESO) Elmhurst Symphony Orchestra as the guest Saxophonist for their feature of Symphonic Dances for a Leonard Bernstein themed concert, and, being 1st Alto Saxophone in YJED (Youth Jazz Ensemble of DuPage) for 4 years and creating 3 studio albums with that group at CRC (Chicago Recording Company) from 2012-2015.
Matt has been asked to adjudicate several local High School and Middle School IGSMA competitions in the DuPage county area of Illinois as well as local solo/ensemble contests for woodwind players and saxophone players.
Matt currently teaches privately, works part-time for Quinlan and Fabish music company, and teaches saxophone part-time in several school districts in DuPage and Cook counties. Most of his line of work is self-employment, private education, and performing. Matt enjoys getting involved with school districts and has made numerous connections with band directors and other music educators in the Illinois area.
Matt has studied Saxophone extensively and vigorously for the past 14 years with Roger Birkeland (Elmhurst College). Matt also studies with Taimur Sullivan (Northwestern University) and Jeremy Ruthrauff (DePaul University)
Matt anticipates earning his Master's Degree in Performance (MMus) by 2021 and also earning his Doctoral Degree (DMA) in the near future after that.
Matt is currently engaged to the love of his life; Leann Kaesrilohit. They anticipate getting married on June 12th, 2021 and spending the rest of their life together.