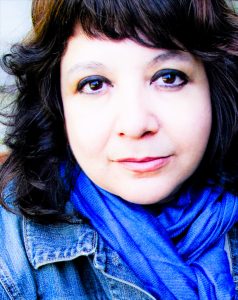 Carmen Helena Téllez is a conductor who specializes in the interpretation of new music and in the conceptualization and production of multidisciplinary music projects. In her career spanning more than 25 years she has commissioned, premiered and recorded dozens of works for instrumental and choral ensembles, symphony orchestras and opera companies in the US and internationally. She has pioneered new modes of presentation, as she researches, conceptualizes, curates, produces and conducts special interdisciplinary projects in contemporary music for ensembles and cultural organizations worldwide. She has been also very successful re-contextualizing historical repertoire to address current events and social experiences.
Carmen-Helena Téllez works independently and with collaborators in the fields of visual design, stage movement and digital technologies, for individual productions in her ongoing interdisciplinary research project Kosmologia, based in Chicago. Over the years she has collaborated as a conductor for the University of Chicago (involving composer Shulamit Ran, the Contemporary Chamber Players and Eighth Blackbird), the new music ensemble Fulcrum Point, the Chicago Latino Music Festival, the Art Institute of Chicago Concert Series, and NON:Op Open Opera Works. She now focuses increasingly on immersive and interactive experiences as a way to engage with new audiences for contemporary classical music. Her work has been supported by major grants by the National Endowment for the Arts and the Rockefeller Foundations. Between 2012 and 2016, the Mellon Foundation supported four interdisciplinary music dramas conceptualized by Carmen-Helena Tellez for the University of Notre Dame, where she teaches, including a daring recreation of Dante's Divine Comedy with a libretto by a Robin Kirkpatrick of the University of Cambridge, soundscapes by Chicago composer Christopher Preissing, and an oratorio by Oregon composer Robert Kyr. Her concerts have been characterized by The Washington Post as "immersive and thrilling."
Some of the composers commissioned and premiered by Carmen Helena Tellez include Shulamit Ran, John Eaton, Yehuda Yannay, Christophe Preissing, James MacMillan, Ingram Marshall, Robert Kyr, Michel Petrossian, Sven-David Sandstrom, Mario Lavista, Gabriela Ortiz, Gabriela Lena Frank, Hilda Paredes, Menachem Zur, Juan Orrego Salas, Lansing McLoskey, Jorge Muñiz, Elbio Barilari, and Eric Richards, among many others. She has also conducted the American Midwest premieres of several choral, orchestral and operatic works by John Adams, Philip Glass, Iannis Xenakis, Witold Lutoslawski, Karlheinz Stockhausen, Ralph Shapey, Stephen Hartke, Einojuhanni Rautavaara, Silvestre Revueltas, Osvaldo Golijov and Gregory Spears, among others. At the same time, has conducted many of oratorios, operas and symphonies of the classical repertoire, by Bach, Handel, Mozart, Haydn, Beethoven, Mendelssohn, Berlioz, Brahms, Tchaikovsky, Stravinsky, Revueltas, Ligeti, and Takemitsu, in the US, England, Spain, Israel, Mexico and most of Latin America.
Carmen-Helena Tellez was for twenty years the director of the Latin American Music Center at Indiana University in Bloomington, where she was Professor of Music, giving her a specialized knowledge on Latin American classical repertoire. As a Latin American music expert, she has assisted as a conductor and scholar important projects by the Chicago Grant Park Festival,
Chicago Latino Music Festival, Simón Bolívar Orchestra, Dorian Records, México City Philharmonic, Venezuela Symphony Orchestra, the Library of Congress, the Tomás Luis de Victoria Composition Prize of Spain, and the American Composers Orchestra. She recorded the 100 anniversary CD of Carlos Chavez unpublished music with the Mexican research institute
CENIDIM; commissioned and recorded the award winning Missa ad Consolations Dominam Nostram by Mexican composer Mario Lavista; and conducted the premiere recording of Chilean composer Juan Orrego Salas' choral-orchestral cantata La ciudad celeste for Indiana University's Latin American Music Center.
In 2008 she advised the composer, produced and conducted the world premiere of Mexican composer Gabriela Ortiz's opera on drug trafficking and border culture ¡Únicamente la verdad! also at Indiana University. In 2018 she collaborated with stage director Chía Patiño and the Teatro Nacional Sucre of Ecuador in the conceptualization of an Andean version in Spanish of Mozart's Die Zauberflöte, for which she completely revised and completed a torso by Ecuadorean musician Segundo Cóndor, adapting Mozart's opera for an orchestra of Andean instruments. She conducted eight sold-out presentations of La Flauta Mágica de los Andes during the Teatro Sucre's main season, and then again for the meeting of Opera Latinoamérica
in October of 2018. Earlier in the season she conceptualized and conducted a staged production of Mozart's a Requiem for the Teatro Sucre, for two sold-out performances. A third performance had to be added by popular demand.
Trained as a composer by the Italian composer Primo Casale in Venezuela, and later working with Swedish composer Sven-David Sandstrom at Indiana University, Carmen-Helena Tellez has recently returned to composition as part of her interdisciplinary research. She is currently working on a series of violin etudes for Stacia Spencer and the Young Violinists Academy at
Northwestern University, and on a cycle for soprano and instrumental ensemble on poems by the renowned Dante scholar Robin Kirkpatrick. She has lectured extensively on her experience on Latin American music and on new interdisciplinary modes of presentation at Northwestern University and at the universities of Cambridge, California, Indiana, Arizona, Notre Dame,
Louisville, São Paulo, Católica de Chile, and UNAM of México, as well as for the College Music Society and the UK-based Performance Studies Network. Her most recent recording projects include the Oratorio Paradiso by Robert Kyr; and the Sor Juana Project by former University of Chicago composition professor John Eaton.
Go to CarmenHelenaTellez.com for more information.