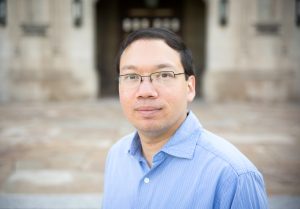 Roger Zare has been praised for his "enviable grasp of orchestration" (New York Times) and for writing music with "formal clarity and an alluringly mercurial surface." His music often takes inspiration from science, nature, mathematics, and mythology. Currently based in Chicago, he was born in Sarasota, Florida, and began playing piano at age 5 and violin at age 11; he started composing at age 14. Zare holds a Doctorate of Musical Arts (2012) from the University of Michigan, a Master of Music (2009) from the Peabody Conservatory of Music, and a Bachelor of Music (2007) from the University of Southern California. He currently serves as an instructional assistant professor of music theory and composition at Illinois State University.
An award-winning composer, Roger has written works for a variety of ensembles, including solo, chamber, choral, and full orchestra works and has had performances of his music on five continents. In early 2005, the New York Youth Symphony commissioned Roger to write an orchestral piece for them as part of their First Music competition. The 65th composer to win this commission, Roger wrote an orchestral composition titled The Other Rainbow, which was premiered in Carnegie Hall in February 2006. In 2007, Roger won a BMI student composer award for his orchestral work, Green Flash, and has subsequently been awarded the 2009 ASCAP Foundation Rudolf Nissim Prize and the 2008 American Composers Orchestra Underwood Commission for the same work. Another of Zare's orchestral works, Aerodynamics, received a 2009 BMI student composer award and was premiered by the Minnesota Orchestra as part of the 2009 Minnesota Orchestra Composer Institute. Zare has also received a Charles Ives Scholarship from the American Academy of Arts and Letters and was a fellowship recipient at the 2010 Aspen Composition Masterclass and the 2010 Cabrillo Festival of New Music Composer-Conductor workshop. He has been composer in residence of the Chamber Music Festival of Lexington (2010) and the SONAR new music ensemble (2008-present). His clarinet concerto, Bennu's Fire, was written for and premiered by Alexander Fiterstein at the 2011 International Clarinet Association's ClarinetFest and was the recipient of both a BMI Student Composer Award and an ASCAP Morton Gould Award.
In 2012, Zare served as composer in residence with the Salt Bay Chamberfest in Damariscotta, Maine, and made three trips throughout the summer to present about his music to patrons of the festival. Through a program called "Sound Investment," he was commissioned by a consortium of patrons to write a new piece for the festival, On the Electrodynamics of Moving Bodies. Later in 2012, he was named 2012-13 Composer of the Year with the Sioux City Symphony and held a weeklong residency in the Sioux City area, lecturing at various local colleges and teaching a composition master class at the University of South Dakota. The week culminated with the premiere of his Spectral Fanfare and a performance of Aerodynamics by the Sioux City Symphony, with Ryan Haskins conducting. While a participant at the 3rd Intimacy of Creativity workshop in Hong Kong, Zare's work, Geometries, was awarded the audience favorite prize This resulted in Zare's return to Hong Kong in January 2014 to perform Geometries with Cho-Liang Lin, violin; Jian Wang, cello; and Burt Hara, clarinet at the 2014 Hong Kong International Chamber Music Festival.
Embracing his love of science, in July 2014, Zare participated in a workshop presented by CERN at the Montreux International Jazz Festival, The Physics of Music and the Music of Physics. Across the lake from the Large Hadron Collider, the Donald Sinta Quartet joined him in Switzerland and performed his saxophone quartets, LHC and Z(4430). In 2015, Zare received a Copland House residency award. During his month-long stay at Aaron Copland's house in Cortlandt, New York, Zare composed a saxophone sonata inspired by rain for Scotty Phillips, who premiered it at the North American Saxophone Alliance Biennial Conference in March 2016. During the spring of 2016, Zare was one of six composers selected to participate in the Chicago Civic Orchestra Composers Project. His work, Lunation 1113, was coached by members of 8th Blackbird, and performed at the Chicago Symphony Center in May 2016. Later that month, Zare was awarded the grand prize in the inaugural China-US Emerging Composers Competition, for the orchestral version of his Fractal Miniatures after its performance at the Beijing Modern Music Festival by the EOS Repertoire Orchestra. Another interdisciplinary collaboration partnered Roger with Elizabeth Hicks, an astrophysicist, and Megan Rhyme, a choreographer, producing "Far from Equilibrium," an evening-length dance piece for clarinet quartet and eight dancers based on the physics of turbulence.
During the summer of 2016, Zare was invited to serve as the Kaplan Fellow in composition at the Bowdoin International Music Festival. In 2018, Zare was commissioned by the Flute Clarinet Duos Consortium, and his new work for flute, clarinet, and piano, Zodiacal Light, will receive premieres from the 23 members of the commission throughout the 2018-19 season.   During his years at USC's Thornton School of Music, Roger studied with Donald Crockett, Tamar Diesendruck, Frederick Lesemann, and Morten Lauridsen. At Peabody, Roger studied with Christopher Theofanidis, David Smooke, and Derek Bermel, and at the University of Michigan, Roger studied with Bright Sheng, Michael Daugherty, Kristin Kuster, and Paul Schoenfield.   www.rogerzare.com