Event Description
As part of DePaul Art Museum's partnership with Ear Taxi Festival we bring a series of concerts and workshops to our galleries and across Chicago from July through October!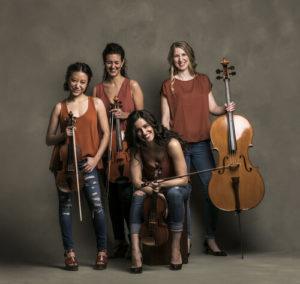 An advocate for the performance of the music of Latin America, Chicago-based KAIA String Quartet will present a program of Mexican and Uruguayan composers from the early 20th Century to the present, from Javier Alvarez's provocative work "Metro Chabacano", inspired by an art installation by Marcos Limenes in Mexico City to the "Second String Quartet" of Silvestre Revueltas, subtitled "Magueyes," (the part of the agave plant used to make tequila). The second half of the program will feature the colorful and emotional "First String Quartet" of Carlos Chavez, a remarkable peek into the work from this brilliant composer. Finally, KAIA will perform the world premiere of a String Quartet by Elbio Barilari. Written in 2020, this work is rich with the rhythms and sounds of Barilari's native Uruguay and is a delightful way to end this diverse and exciting afternoon of music.
Due to COVID-19 safety precautions DePaul Art Museum will only be seating 30 tickets for this performance. We will make 50 tickets available in case of any cancellations or no-shows, but will give priority to the first 30 registrants.