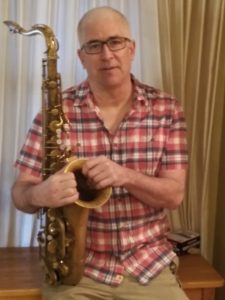 Mark Nagy is a Chicago-based saxophonist and composer. In addition, he designs, builds and performs using electronics. A project that he is currently involved in is the recording of the entire Cornelius Cardew Treatise with another electronic musician. Considering the magnitude of the score, 193 pages, it is an ambitious project. Their eventual goal is to perform excerpts of the score in a multimedia environment.
He also composes and plays in a saxophone duet entitled "Pendulum." This ensemble started as an exploration and adaptation of the music of Bartok for the saxophone. Over time, Nagy started composing more of the music. The resulting music is a unique combination of 20th century European music and American music. Their repertoire consists of through composed duets, compositions that incorporate structures for controlled improvisations based on preset parameters as well interpretations of American composers.
Nagy has appeared in numerous festivals in the US and Europe. Some highlights include the Chicago Jazz Festival and Viva! Chicago Latin Music Festival as well as the Montreux Jazz Festival in Switzerland. He also was a participant in the Banff International Workshop in Jazz and Creative Music in Canada. Nagy holds a BA amd MM in music from Northern Illinois University and has also studied at the New England Conservatory. Some of his teachers include Ran Blake, Jerry Bergonzi, and David Liebman.