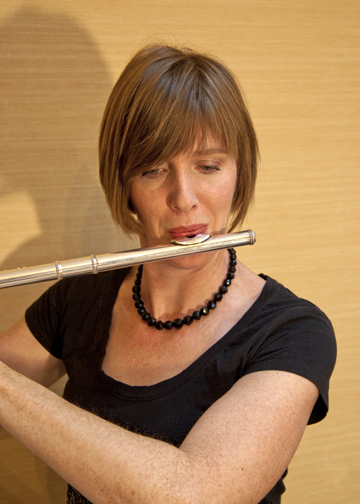 Lisa Goethe-McGinn has an active career as a soloist, chamber musician, and teaching artist. She has performed in festivals and concerts throughout the U.S. and abroad.
Known as a versatile performer, Lisa is a much sought after performer of contemporary, cutting-edge music and improvisation. She is currently working on solo and collaborative projects and with flute/cello duo, Cherchez la Femme. She has performed as a soloist and ensemble member with new music and improvisation group, Ensemble Noamesia, and with MAVerick Ensemble. She has given both U.S. and World Premiere performances of numerous compositions and has worked directly with composers George Crumb, Helmut Lachenmann, Salvatore Martirano, Yehuda Yannay, among others, and with notable improvisers Jim O'Rourke, Gene Coleman, TV POW, Chao-Ming Tung, Fred Lonberg-Holm and Otomo Yoshihide.
Her first feature CD, Uncommon Voices on Vienna Modern Masters, was released in late 2008 containing works by American composers, Burt Levy, Salvatore Martirano, Yehuda Yannay, and Ben Johnston.
Lisa received degrees from the University of Illinois-Urbana and Millikin University and studied at University of North Texas. Her teachers include Alexander Murray, Mary Karen Clardy, and Mary Ellen Poole. She has had the privilege to study additionally with Jan Smith, Robert Dick, Camilla Hoitenga, and Anne LaBerge and has participated in masterclasses with Walfrid Kujala, Patricia Spencer, and Robert Dick.
She is an active teaching artist, coach, clinician, and adjudicator and is on the faculty of Columbia College Chicago, Old Town School of Folk Music at Columbia College Chicago, and maintains a home studio in the western suburbs of Chicago. She lives with her husband, two children, and their two pugs, Sherman & Trixie.
More information can be found at her website.