ARTISTIC DIRECTOR
Jennie Oh Brown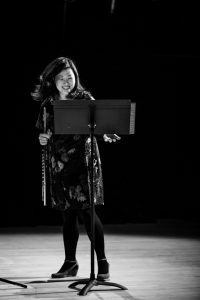 (PC Foresst Strong Lafave)
"The irrepressibly creative flutist and new music advocate celebrates the release of her new album…" Howard Reich, Chicago Tribune, November 8, 2019
Jennie Oh Brown is an entrepreneurial artist with a vibrant and eclectic career performing all flutes. Brown was recently confirmed as the Artistic Director of Ear Taxi 2020 together with Curatorial Director Michael Lewanski. Ear Taxi 2020 (ET20) will showcase Chicago's vibrant community of new and experimental musicians in locations throughout Chicago with spotlight concerts from September 28 – October 7, 2020, a curated festival of concerts from October 8 – 12, 2020, and professional development workshops. Additionally, she launched and curated the New Music Chicago Presents (NMCP) series at the Chicago Cultural Center in 2019 as the first recipients of the Department of Cultural Affairs and Special Events ArtSpace grant and will soon launch its second season in January 2020. The series presents free monthly noon-time concerts at the Chicago Cultural Center featuring New Music Chicago members and friends performing 21st century music written by living composers.
Brown serves as Artistic Director of the chamber ensemble Picosa, launching a new four concert series in Allen Recital Hall at DePaul University's Holtschneider Performance Center in 2019-20 and ongoing concerts at the Driehaus Museum, while holding residencies at Elmhurst and North Central Colleges. The ensemble performs regularly on Chicago's prestigious concert series including East Taxi Festival 2016, Live from WFMT with Kerry Frumkin, Frequency Series at Constellation Chicago, and The Rush Hour Concert Series at St. James Cathedral.
Brown is the founder and director of Credo Flute, now entering its sixth season, where she serves on faculty with Bonita Boyd, Walfrid Kujala, and elite flutists. She has performed in six National Flute Association conventions and is also the coordinator fo the National Flute Association's Convention Performers Competition whose winners are featured in concert performing winning compositions of the Newly Published Music Competition. Additionally, she is the Chicago coordinator for the premiere of the NFA's flute choir commission of Julia Wolfe, which will take place on April 21, 2020 at the Chicago Cultural Center.
Brown has performed numerous times on WFMT and was interviewed by Narimon Safavi for WBEZ's Worldview regarding her Midwest premiere of Valerie Coleman's powerful Hair, Cloth, Thread for flute and percussion. She graduated from Eastman (DMA, MMPRL with Performers Certificate), Northwestern University (BM), and Interlochen Arts Academy (HS), and serves on the faculties of Wheaton College (since 2002), Elmhurst College(since 2012), and Interharmony International Music Festival, Italy. She performs on a Brannen 10k flute and a 18k Lafin head joint, Yamaha brass alto flute, a Keefe and Powell grenadilla piccolo, and a Palanca/Wenner Grenadilla Traverso.
Recent Recordings:
Innova 043: Giantess (solo, released in 2019)
Innova 040: Vox (Heare Ensemble – Trio, to be released in January 2020)
Innova 919: Looking Back: Music of Joseph Schwantner (solo, released in 2016)
Parma Recordings: Crimson and Lace (Ensemble, released 2015)
---
CURATORIAL DIRECTOR
Michael Lewanski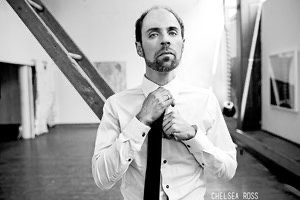 Conductor, educator, writer, and curator Michael Lewanski is a champion of new and old music. His work seeks to create engaged connections between audiences, musicians, and the music that is part of their culture, society, and history. His programming seeks to recontextualize traditional repertoire, to make spaces for thoughtful and nuanced experiences of recent work, and to create an expanded sense of what concert music can be. Based in Chicago, he is conductor of Ensemble Dal Niente and Associate Professor of instrumental ensembles at the DePaul University School of Music.
Along with Artistic Director Jennie Oh Brown, Michael will serve as the Curatorial Director of Ear Taxi 2020, a festival of Chicago's new and experimental musics. His wide-ranging guest-conducting has included work with Lyric Opera of Chicago, the Civic Orchestra of Chicago, the Chicago Symphony Orchestra's MusicNOW Series, the Toledo Symphony, the National Symphony Orchestra of Turkmenistan, Ensemble CEPROMUSIC (Centro de Experimentación y Producción de Música Contemporánea, Mexico City), and Mocrep, among many others. He was resident conductor of the SoundSCAPE Festival (Italy) in 2017 and 2019. Michael has an extensive discography as both conductor and producer with Ensemble Dal Niente, Spektral Quartet, Third Coast Percussion, DePaul's Ensemble 20+, and others. A native of Savannah, Georgia, he studied piano and violin in his youth; he made his conducting debut at age 13, leading his own composition. At 16, he was the youngest-ever student in the legendary Ilya Musin's class at the St. Petersburg Conservatory in Russia. He attended Yale University; he subsequently studied with Cliff Colnot and Lucas Vis.