Friday, June 25, 7 pm
Friday, June 25, 9 pm
Saturday, June 26, 5 pm
Saturday, June 26, 7 pm
Sunday, June 27, 3 pm
Sunday, June 27, 5 pm
---
Friday, June 25, 7:00 pm
Koeun Grace Lee • Surfing between Tonality and Post-Tonality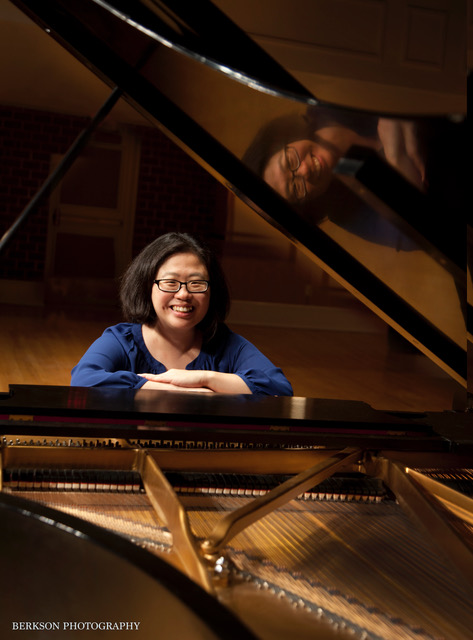 Koeun Grace Lee, piano
Go-Hyang (Ancestral Home) David Burge
Inyon (Fate [Karma])
Jaejalgawrim (Children's Chatter)
Mokrohjujom (Old Inn)
Chang-gu (Korean Drum)
Mudang (Shaman)
Go-Hyang (Ancestral Home)
GASPHyeKyung Lee
Selections from Wolpe Variations for Solo PianoRobert Gross
Theme – Stately
Variations:
1. Frenetically
2. Easily
3. Like A Baroque Prelude
4. Ragtime
Folksong Revisited Jean Ahn
Nil-lili
Song of Mongeumpo
Ongheya
Program Notes
Go-Hyang (1994) by David Burge
The reputation of American pianist David Burge (1930-2013) flourished through a long career of performing contemporary music. His later compositions, written after 1984, integrate his interest in foreign cultures and languages with his promotion of contemporary music. One of these works, Go-Hyang (1994) reflects Korean musical and cultural references through the prism of contemporary Western techniques. The work contains six movements to be performed as a single work without pause. Each movement highlights extended piano techniques influenced by George Crumb, consonant post-tonal harmonic language, elements of Korean traditional music (pentatonic scale, folk tune, instrument) and culture (landscape, language, and religion).
GASP (2002) by HyeKyung Lee
HyeKyung Lee (b. 1959) is an Associate Professor of Music at Denison University, Granville, Ohio. Her most recent commissions include the Ambassador Bonnie McElveen for Maestro Gerard Schwarz and the Eastern Music Festival Orchestra in 2018. She holds B.M from YonSei University (Seoul, Korea) and M.M. and D.M.A. from the University of Texas-Austin.
GASP was written for the 2003 American Liszt Society Festival. The piece is based on the first seven notes of the melody from Franz Liszt's Un Sospiro (a sigh), composed in 1848. This piece won the Renée B. Fisher Composer Award in 2009. Lee has created substantial transformations from "sigh" to "gasp" with repeated notes in moto ostinato form. The contrasting middle section contains colorful sonority with a spatial pattern of trills and arpeggi.
Selections from Wolpe Variations for Solo Piano (2015) by Robert Gross
Robert Gross (b. 1973) holds a D.M.A. in music composition from the University of Southern California, M.A. in Music for Film, Television and Theatre from the University of Bristol in England, M.M. in Music Composition from Rice University, and B.M. in Music Composition from Oberlin Conservatory. He is a Board-Certified Music Therapist, with an M.A. in Music Therapy from Texas Woman's University.
According to Gross, Wolpe Variations for Solo Piano is music composed to make essentially two points: first, that the demarcations between tonality and post-tonality are extremely fluid; and second, post-tonal prolongation exists, because without it, post-tonal variation in theme-and-variations form would not be possible. The scope of work is modeled on Frederic Rzewski's Variations on The People United Will Never Be Defeated, a work Gross admired for a long time. The entire set of Wolpe Variations is approximately 45 minutes.
Folksong Revisited (2005-2008) for Solo Piano by Jean Ahn
Unchained Melodies is a new modular chamber work with a contemporary twist that evokes the contrapuntal rigor of medieval music and the crafty puzzles of J.S. Bach. The composition is a collection of short solo pieces that can be combined in endless permutations ranging from duos all the way up to the full ensemble.
Notes by Dr. Koeun Grace Lee
Artist Biographies
An avid pianist and educator, South Korean native Koeun Grace Lee is active in performing contemporary solo repertoire. Her performance of Folksong Revisited, a work of Korean composer Jean Ahn, was featured in Music in Chicago of WFMT. She will be recording an album entitled Variations on a Theme by Stefan Wolpe in collaboration with an American composer, Robert Gross, including works by Jean Ahn and David Burge in upcoming years. She serves on the piano faculty at Mattix Music Studio and holds a Doctor of Musical Arts in Piano Performance from the University of North Carolina-Greensboro.
---
Friday, June 25, 9 pm
Phil Pierick & Audrey Q. Snyder • 1reed4strings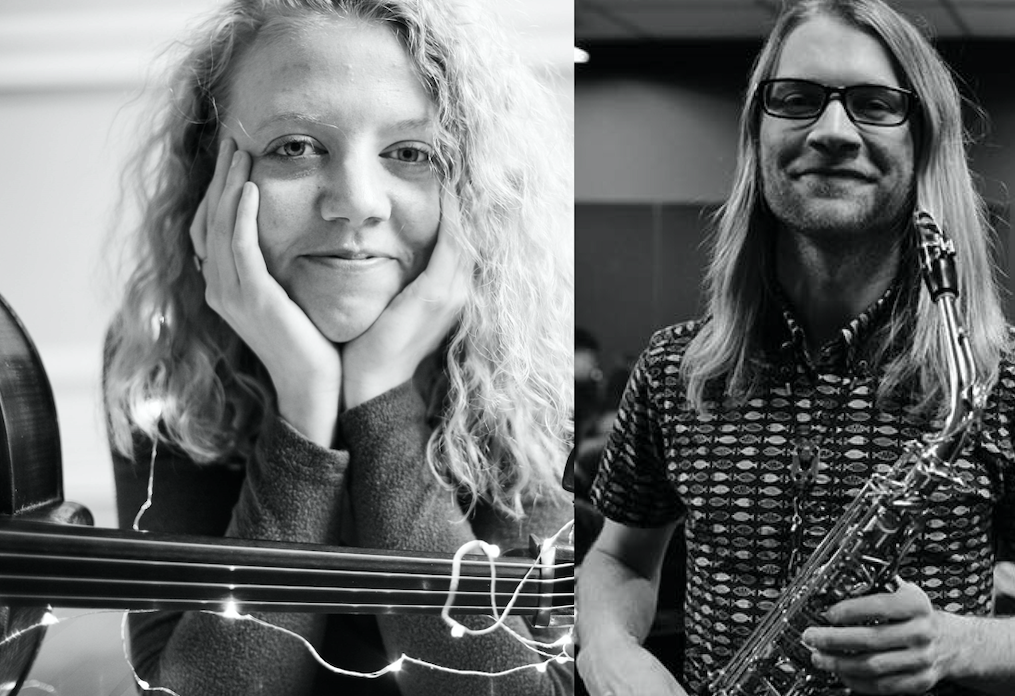 Phil Pierick, saxophones
Audrey Q. Snyder, cello
Free ImprovisationPierick/Snyder
BLACK MARYShelley Washington
Walk On Water Dorothy Chang
Fault-LineSamantha Fernando
reflected airJeffrey Mumford
Free ImprovisationPierick/Snyder
Composer Biographies & Program Notes
Shelley Washington's music draws elements from jazz, rock, American folk and other musical spaces, new and old. She wants a listener to somehow move, for their emotions or imaginations to be altered, or even just be moved to tap their toes. In works confronting social injustices, she aims to create a space for public dialogue while personally reclaiming power for her own experienced inequalities. Shelley is a founding member of the composer collective Kinds of Kings and lives in Brooklyn with her dog Rodeo. Shelley studied at Truman State University (BA, MA), NYU (MM), and is currently completing a PhD in Composition at Princeton University.
"I've always been fascinated by the incredible stories of the cowboys who tamed the Wild West. Mary Fields, also known as "Black Mary" and most famously, "Stagecoach Mary," was a former slave born in Tennessee who was one of the first black women to be awarded a Star Route contract with the United States Post Office. In addition to that, Mary was the fastest to hitch a full team of six horses, liked to smoke cigars, curse, and fight, she carried two loaded guns, had a "foul reputation for a woman" with "the temperament of a grizzly bear," and was the only woman allowed to drink publicly in the local saloons. Mary was a respected public figure who fearlessly created her own path during a time when many African-Americans were shamed for even trying, and the path she blazed for herself from liberated slave to celebrated local heroine is one of my all-time favorite true historic stories. She was a strong, powerful, and deeply multifaceted woman. BLACK MARY is a galloping, roiling jaunt with pumping twists and turns meant to engage the performers entire body throughout the piece."
–Shelley Washington
"Described as "evocative and kaleidoscopic," the music of composer Dorothy Chang reflects an eclectic mix of musical influences ranging from popular and folk elements to traditional Chinese music. Her works are often inspired by place, time, memory, and personal histories. Dorothy's catalog includes over seventy compositions with a particular interest in cross-cultural and interdisciplinary collaboration, including works for mixed Chinese and Western ensembles as well those involving staging, movement, theater, and dance. Dorothy's music has been featured in concerts and festivals across North America and abroad. She is currently a Professor of Music at the University of British Columbia.
The movement of water is often used as a metaphor for time: the flow of time, the stream or tide of time. In Walk on Water, I explore the idea of movement as it relates to the flow of music unfolding. Although the work evolves in one continuous line, there are sudden surges and hesitations; phrases take unexpected turns in character and dramatic intensity, and elsewhere remain more static, creating circles through repetition. This erratic pattern of push and pull creates the perception of elasticity in the flow of time, with unpredictability propelling the piece forward.
As with the reflection of images in water, the musical material appears in varying degrees of distortion, moving through turbulent, aggressive passages as well as tranquil, meditative lulls. These abrupt shifts create an overall atmosphere of restlessness that carries through until the final cadence of the piece.
Walk on Water was written for Paul Bro and Kurt Fowler, with funding provided by an Indiana State University Arts Endowment Grant."
–Dorothy Chang
Samantha Fernando has worked with numerous ensembles including the Philharmonia Orchestra, Riot Ensemble, The BBC Singers, LOD Muziektheater, Silbersee Vocal Ensemble, and The London Sinfonietta. Her music has been performed at festivals in the UK and abroad such as Aldeburgh Music, Huddersfield Contemporary Music Festival, Sounds New, Gaudeamus Muziekweek, York Late Music, and The Oxford Lieder Festival. In 2013, she was awarded an RPS Composition Prize. Samantha's music has been broadcast on BBC Radio 3 and released on labels NMC and Coviello Classics. 2021 sees the opening of Current, Rising, a new hyper-reality opera, directed by Netia Jones and produced by the Royal Opera House.
Composer Jeffrey Mumford has received numerous honors, including the "Academy Award in Music" from the American Academy of Arts & Letters, a Guggenheim Fellowship, and an ASCAP Aaron Copland Scholarship. He was also the winner of the inaugural National Black Arts Festival/Atlanta Symphony Orchestra Composition Competition. Recent premieres include let us breathe by cellist Dan Culnan on the Cincinnati Symphony's "Fanfares" project and fleeting cycles of layered air by violinist Miranda Cuckson, as part of the Fromm concert series sponsored by Harvard University. Jeffrey served as Assistant Professor of Composition at the Oberlin College Conservatory of Music. He is currently Distinguished Professor at Lorain County Community College.
"Inspired by the beautiful work of Paris based photographer and violinist, Nathalie Wizun, reflected air was commissioned by and written for Duo Denisov, an ensemble which is also based there. Cast in three short movements, the work celebrates the expressive possibilities and timbral combinations that result from the combination of alto saxophone and 'cello, often highlighting aspects of reinforcement and divergence. The third movement initially references the first, but then quickly moves in a variety of other directions, often punctuated by the 'cello's chords which create resonances in the alto sax. The middle movement is primarily concerned with attacks, differing registers, and syncopation."
–Jeffrey Mumford
Artist Biographies
Classically trained and experimentally minded, Chicago-based Phil Pierick has been called "the Swiss Army knife of saxophonists." He has commissioned more than 25 new works and presented over 50 premieres. I CARE IF YOU LISTEN calls his duo Ogni Suono's 2018 album SaxoVoce "a tour de force of new possibilities." Phil has taught at the Eastman School of Music, the University of Illinois, the College of Wooster, and as a guest throughout the world. He studied at the Eastman School of Music (DMA), the University of Illinois (MM, BM), and in Vienna (Fulbright Scholar) and Paris (Beebe Scholar). Phil is a Vandoren Artist.

Audrey Q. Snyder is a cellist and advocate of contemporary instrumental music. She is a core member of the Chicago-based Zafa Collective, a new music group founded with the idea of inclusivity (both in programming and performance) at its core. In December 2019, she produced, performed in, and coordinated the live performance of New Music//New Film Collaborative, a year-long project that facilitated the creation of 5 new pieces with corresponding video art; all audio with video was released in 2020. Audrey holds a BM and MM from the Eastman School of Music, where she studied with Alan Harris.
---
Saturday, June 26, 5 pm
Mad Myth Science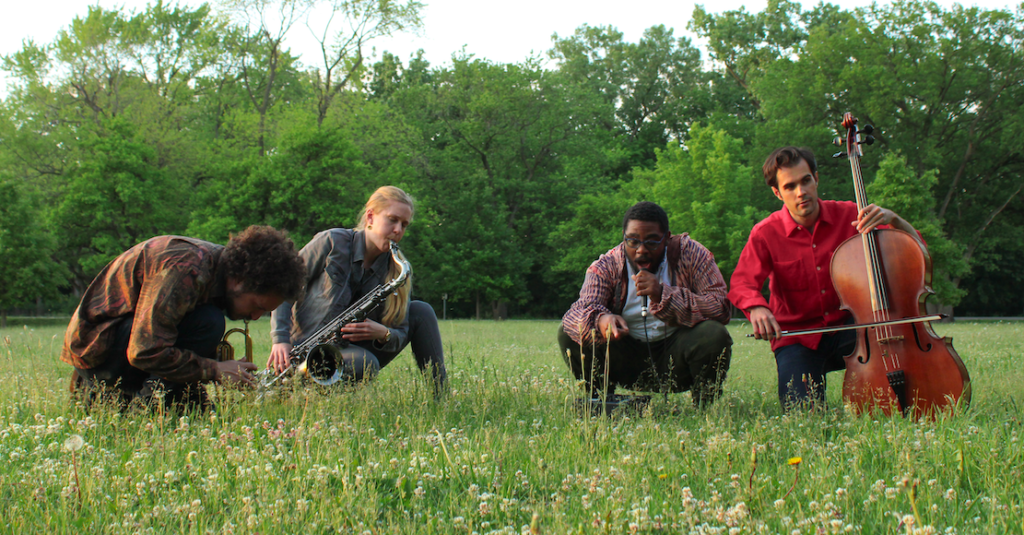 Program to be spontaneously composed onstage
Molly Jones — saxophones, flutes
Julian Otis — vocals, electronics
Wilson Tanner Smith — cello, mandolin
Ben Zucker (NMC) — trumpet, vibraphone
all members on additional electronics and objects
Artist Biographies
Mad Myth Science is a creative collective with Molly Jones, Julian Otis, Wilson Tanner Smith, and Ben Zucker, whose collective experience touches all corners of experimental music and performance scenes in Chicago and worldwide. Formed in early 2020, the group developed its voice in the midst of the COVID-19 pandemic, working together in live and virtual settings to develop spontaneous compositions and rituals for an increasingly unstable world. Instruments, electronics, objects, language, and movement all play a part in their multifaceted, evolving performances.
Molly Jones practices improvisation and composition in Chicago. She plays saxophone and flutes and has performed in jazz, classical, Eastern European, and contradance ensembles, as well as creating multimedia performance and installation work. Her practice comes from a place of playfulness, listening, and attention. Her compositions range from through-composed chamber works to graphic scores to electroacoustic environments for improvisation, incorporating video, movement, and words. She has performed with musicians including Saul Williams, Nicole Mitchell, Tyshawn Sorey, Robert Ashley, Jaribu Shahid, Ed Sarath, Kei Akagi, Alex Harding, Paul de Jong, Wadada Leo Smith, Andrew Bishop, Douglas Ewart, Joo Won Park, Elliott Sharp, Cheick Hamala Diabate, Marion Hayden, Matt Kiroff, Angel Bat Dawid, and many friends in the US and Canada. She has been commissioned by organizations including ThreeForm, the Detroit Composers' Project, and Detroit Fringe theater festival; her video installations have been presented at Rooms To Let Cleveland, FireFish Festival, and Detroit Contemporary; and her poetry can be found in Saul Williams' Chorus: A Literary Mixtape, Matchbox Magazine, and her zine Moon Jar. She premiered her opera-ballet Acting On Air in October 2019 and released an art object cassette on Arcane Object in Fall 2020.
Julian Terrell Otis is a genre defying musician dedicated to the advancement of Black Music in America. His vocal improvisations have been called 'instrumental' and highly sensitive to the ensemble's texture. He has become an enthusiastic interpreter of contemporary music most recently lending his ringing tenor sound to Anthony R. Green's …I Shall Shake His Hand… curated by Fulcrum Point New Music Project and Nkeiru Okoye's Harriet Tubman: When I Cross That Line to Freedom (South Shore Opera Company). As a student Julian was able to explore the choral works of Ted Hearne, James MacMillan, Sebastian Currier and other contemporary composers under the baton of Donald Nally. Julian wishes to explore the limitless possibilities of his instrument's expressive capacity through song, improvisation, and theatrical works. He has performed with the American Contemporary Music Ensemble, the International Contemporary Ensemble (ICE), Imani Winds, and Nicole Mitchell's Black Earth Ensemble. He originated the role of soloist in George E. Lewis' chamber opera Afterword.
Wilson Tanner Smith is a Chicago-based cellist, composer, improviser, multi-instrumentalist, and performance artist originally from the Philadelphia area. His music is characterized by an interest in limited materials and simple forms, and the much that can be found in patient looks into the small and subtle. His work probes also the nature of communication/communion: its levels, means, impossibilities—and going on trying anyway. As a cellist/improviser he regularly performs solo and collaboratively across mediums of music, movement, and theatre. Smith's movement-theatre practice is grounded in aikidoistic movement, as developed through formal study under his late father, dancer and sensei Henry Smith, Shihan during childhood. Past work includes performances with dancer/choreographer Ayako Kato, the Kristina Isabelle Dance Company, the Hubbard Street Professional Program, and musicians Keefe Jackson and Ryan Packard, and at venues including Links Hall/Constellation, Elastic Arts, the Ragdale Foundation, the 2017 Pivot Arts Festival and Harvest Chicago Contemporary Dance Festival, and at numerous apartment/house galleries across Chicago. He has given world premieres of music composed by Manfred Werder, Ben Zucker, and Carlo Diaz. His composed music has been performed in the U.S. and Portugal by Ensemble Linea, saxophonist Brandon Quarles of ~Nois, Stephanie Wagner and Raquel Lima, and flutists in collaboration with Claire Chase; and at venues including the Victory Gardens Biograph Theatre in Chicago. His flute duo, "After Thought," was published by Scherzo Editions in 2017. He received a B.M. in music composition with a minor in musicology from Northwestern University in 2016, and is a student of Jay Alan Yim, Juan Campoverde, and the late Lee Hyla.
Ben Zucker practices acts of conceptual juxtaposition and experiential speculation, as an intentionally wide-ranging composer, audiovisual artist, and multi-instrumentalist. He has contributed to experimental music scenes of the Bay Area, Connecticut, London, Chicago, and beyond, working with musicians including Anthony Braxton, Matana Roberts, Myra Melford, Karen Borca, The Crossing, The Vocal Constructivists, Rinde Eckert, and the San Francisco Choral Artists, in addition to frequent performances as a soloist, bandleader, and ensemble contributor. His composed works have received awards and performances by ensembles including the Mivos Quartet, the Los Angeles Percussion Quartet, Khorikos, Ensemble Entropy, and the San Francisco Contemporary Music Players, as well as being performed at DOCNYC, the Darmstadt Fereinkurse, Art Omi, Trinity College Dublin, and the Banff Centre. He has been acclaimed as a "master of improvisation" (IMPOSE Magazine) and "more than a little bit remarkable" (Free Jazz Blog) for his solo albums combining brass, percussion, voice, and electronics, released on labels including Not Art Records, Dinzu Artefacts, Verz Imprint, and I Low You. He currently lives in Chicago, studying, performing, teaching, and organizing as a doctoral student at Northwestern University.
---
Saturday, June 26, 7:00 pm
Dial-Up Stepmom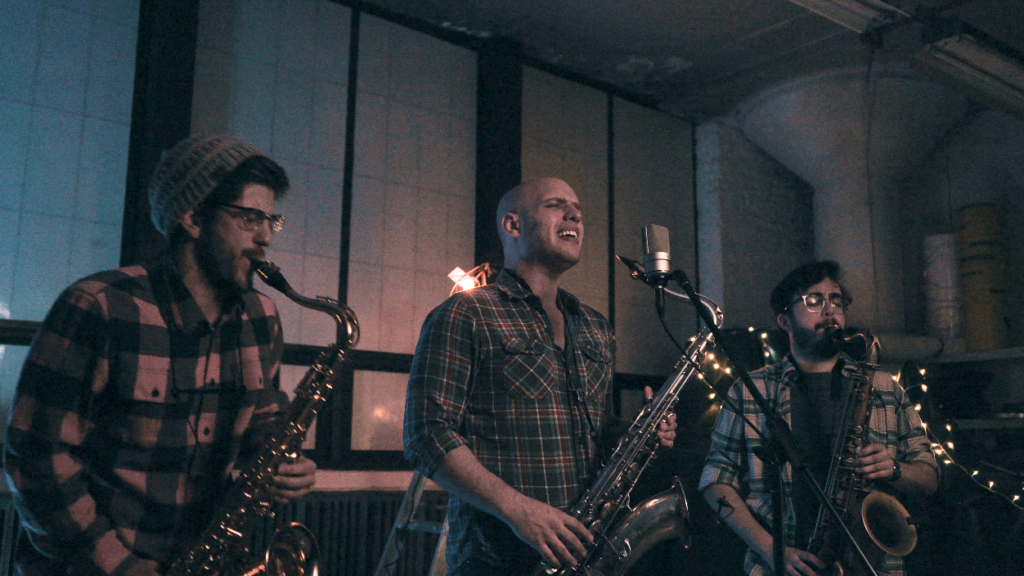 Nick Zoulek: Tenor Saxophone/Voice
Julian Velasco: Tenor Saxophone/Voice
Jordan Lulloff: Tenor Saxophone/Voice
Songs by Bon Iver, Taylor Swift, Moses Sumney, Whitney, and more, arranged by the ensemble.
Dial-up Stepmom was founded on three fundamental principles – excessive amounts of tenor saxophone, inappropriate reverb, and a passion for sad songs. Join us in our quarter-life crisis as we play some of our favorite melancholy tunes from the past decade.
---
Sunday, June 27, 3 pm
Larry Axelrod • Pride Day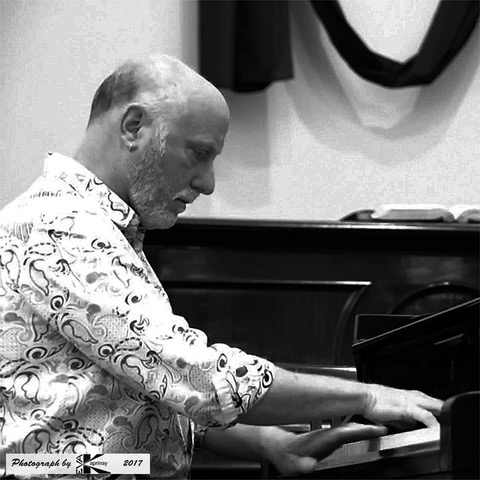 Larry Axelrod (Chicago Composers Consortium), piano

Notes Of GratitudeJennifer Higdon
Talking To TreesLarry Axelrod
PreludingKurt Rohde
Groove IILJ White
MonumentsSamuel Holloway
El Salon MexicoAaron Copland
Program Notes
Notes of Gratitude
This work was written for Linda Reichert. She was one of the very first people to commission the composer when she was still just a graduate student. Watching, listening and experiencing the history of the Network for New Music, with which Ms. Reichert has been associated, has been an honor and a pleasure for the composer.
Talking to Trees
This series of short pieces began as a pandemic project.
In March 2020, New York pianist Adam Marks put out a call for one-page pieces to composers. He would learn and record them in his living room and then post them online. In that odd quiet period, I took solace in the view of trees, then bare, in the park outside my building.
After I wrote the first piece, there seemed to be more to say. These beings who support us in so many ways kept speaking. So I wrote five more short pieces over the next several weeks, trying to connect to both the physical reality of the trees as well as the crucial role they play in the environment.
Groove II
Groove II, much like series of paintings by visual artists, shares its primary material with several other works: a very short solo piano movement, Groove, and instrumental chamber works Groove Excursion, Groove III, Groove IV, and Groove V: a little wild and a little strange… It explores the use of a particular three-chord progression (a "groove"), while playing with characteristics including but not limited to the lengths of notes, the fullness of chords, and the location of rhythmic emphasis. The goal of composing this way, for me, is to create works that are engaging and propulsive, while at the same time unified, elemental, meditative, and maximally focused. A musical motive becomes, rather than a stepping stone to something new, an object to be fully examined and experienced in its own right.
Preluding
That which comes before is fashioned to set the tone for what will follow. Not always, but sometimes.
Bach's preludes to the fugues in the Das Wohltemperirte Clavier have always struck me as possessing a
multiplicity of possibilities, serving as "introductions" to the fugues that will follow, but also being the sinewy, tangled, unseen web connecting all the preludes in Books I and II. They are not just singular objects, stand-alones, but different organs in the anatomy of the body that is the complete collection, activated and alive.
The prelude becomes to prelude, or preluding; to be before-ing, reaching towards what follows, connecting
limb to body with motion, allowing it to proceed forward.
Monuments
This short work is an examination of nineteen phrases of music with similar musical shapes. While there is a written tempo for a basic guideline, there is also the indication of molto rubato. A basic dynamic framework is suggested. Each phrase is a small, flexible, self-contained harmonic world, and also a part of the gentle contour of the whole piece.
El Salon Mexico
The work is a musical depiction of a dance hall in Mexico City called "El Salón México" In some inexplicable way, while milling about in those crowded halls, one really felt a live contact with the Mexican people — the atomic sense one sometimes gets in far-off places, of suddenly knowing the essence of a people — their humanity, their separate shyness, their dignity and unique charm. The work contains three musical styles and goes through the series of three twice, starting each time with the upper-class music, passing through a more vigorous working-class music, and ending with the foot-stomping dance of the peasantry.
Artist Biographies
A recent review in Opera News states that Lawrence Axelrod is "a … composer whose fresh and distinctive music deserves to be more widely known." At once composer, pianist and conductor, Mr Axelrod's musical activities have taken him around the United States, Europe, South Africa, Australia and New Zealand. Mr. Axelrod has had works done by Quintet Attacca, The Chicago Composers Orchestra, Palomar, Ensemble Dal Niente, Pinotage, The Lincoln Trio in recent seasons. Most recently, Brown Line, a scherzo sort of was premiered by the Chicago Composers Orchestra in January 2018. Fits and Starts was premiered by the renowned woodwind group Quintet Attacca in October 2016. Two of his Brandenburg Fantasias were premiered by the Chicago Composers Orchestra in November 2014. His music will be included in the Sound of Silent Film Festival presented by Access Contemporary Music in April 2018, following inclusion in an earlier similar project in 2012, which was performed both in Chicago and New York's Symphony Space.
A CD of solo and small chamber works was released in the Fall of 2003. A CD featuring Mr. Axelrod's Six Brandenburg Fantasias, compositions using the instrumentation from Bach's famous works, was released in October 2013 on the Innova label, garnering significant attention, and was considered for Grammy nomination. The Heart Revived, a new recording, featuring works for soloists and chamber orchestra and solo piano, was released in August 2016, garnering an excellent review and critic's choice in Opera News.
Mr. Axelrod has received grants from the Illinois Arts Council, Chorus America, Meet the Composer and Arts International for the performances of his works.
Mr. Axelrod is a founder and current member of the Chicago Composers' Consortium. and was a member of CUBE Contemporary Chamber Ensemble. He has taught a highly successful opera appreciation class in Santa Fe each summer for fifteen years, which has become a springboard for leading cultural travel trips. His teaching experience also includes Music Theory at Columbia College
---
Sunday, June 27, 5 pm
Fulcrum Point New Music Project • Songs and Chamber Music by Black Composers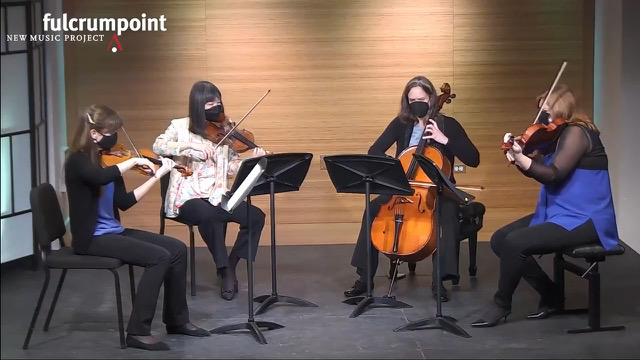 Kate Carter, violin
Rika Seko, violin
Claudia Lasareff-Mironoff, viola
Paula Kosower, cello
Joelle Lamarre, soprano
Kuang Hao Huang, piano
Goddess Of The WaterAnthony Davis/Thulani Davis
Moments In SonderB.E. Boykin/Maya Angelou
Tears
A Conceit
Greyday
Sounds Like Pearls
On Diverse Deviations
Cantata: Prelude & RondoJohn Carter
String Quartet #3Eleanor Alberga
Program Notes
Anthony Davis is an internationally known composer of operatic, symphonic, choral, and chamber works. He is also known for his virtuoso performances both as a solo pianist and as the leader of the ensemble Episteme, a unique ensemble of musicians who are disciplined interpreters as well as provocative improvisers. In April 1993, Davis made his Broadway debut, composing the music for Tony Kushner's Pulitzer Prize-winning play Angels in America: Millennium Approaches, directed by George C. Wolfe. Davis is best known for his operas: X, Tania, Under the Double Moon and Amistad.
Goddess of the Waters is from Anthony Davis and Thulani Davis' opera Amistad that was ten years in the making. The composer writes:
"We first discussed the idea of creating an opera on the Amistad Rebellion in 1986, after the premiere of their opera X: The Life and Times of Malcolm X. We were drawn to the drama of the story, a successful uprising of captives on a slave ship, and the implications of the Amistad incident in an understanding of ourselves and the American experience. Through the Amistad, they could revisit the story of the Middle Passage, the contradictions implicit in the ethos of America, and also explore the emergence of the African-American as a cultural entity.
"The story presented a special musical challenge: I would have to create distinct and separate musical languages for the divergent cultures represented by the characters in the opera. The challenge would be to differentiate character with music, yet at the same time maintain musical unity and coherence. The libretto, as conceived by Thulani, employs a broad spectrum of language from the poetic, metaphoric language of the Captives to the vulgar exhortations of the Reporters. Similarly, the music reflects this spectrum of language with the violent speech rhythms of the Reporters and the rhapsodic stones of the Captives in Act Two.
"In my music the ostinato (repeating rhythmic pattern) takes a pivotal role, as recurring motives denote both character and the physical and psychological environment affecting the characters. I have already mentioned the rhythmic ostinato associated with the Trickster, and there are other recurring motifs for the Goddess of the Waters, Antonio, Adams, the Navigator, and Lewis Tappan, the Abolitionist. Repeating motifs are also employed for the physical and emotional presence of the Ocean and the magical transformative powers of the Bush."
-Anthony Davis
B.E. Boykin studied piano at Spelman College under the leadership of Dr. Rachel Chung. During her tenure, Ms. Boykin won 1st place at the 2009 James A. Hefner HBCU Piano Competition at Tennessee State University. She also began to compose and arrange choral compositions while at Spellman. After graduating with a B.A. in Music, Ms. Boykin continued her studies at Westminster Choir College of Rider University, where she was awarded the R and R Young Composition Prize. In 2013, she graduated with a M.M. in Sacred Music with a concentration in choral studies. She is the Assistant Director of the Spelman College Glee Club, as well as the Director of the Treble Choir at the Georgia Institute of Technology. She is a PhD candidate at Georgia State University with an emphasis in Music Education.
"I've always loved Maya Angelou's poetry. Her famous poems, like Phenomenal Woman and Still I Rise, have resonated with me for as long as I can remember. They were already so widely performed and I was curious about her other works. In finding some of her shorter poems, I eventually organized them by elements that I thought they had in common. I was able to narrow down my selection to fourteen poems that resulted in this work, Moments in Sonder.
"Due to the brief nature of the poems, each song is also relatively short. I was intentional on setting them this way so that the poems could be shared like brief moments in time. While these musical moments seem fleeting, I hope that they capture the beautiful and sometimes tumultuous emotions that bring and bind us together as humanity. For this reason, they are not to be performed in any specific order. I have listed them only for cataloging purposes. As the singer, you are allowed the flexibility and freedom of choosing the moments that speak to you."
-B.E. Boykin
John Daniels Carter (b.1932-1981), African-American pianist and composer, is widely recognized for his only published work Cantata for voice and piano. John Carter studied at Florida A&M University and attended Oberlin College, where he studied under Jack Radunsky, before serving in the US Army. While enlisted, he won a piano competition that led to his emergence as a concert pianist where he toured and performed with various artists such as William Warfield, but not before he studied under Olga Stroumillo. In 1966-67, Carter studied with Carlos Surinach, who recommended him for the composer-in-residency post with Rockefeller Foundation.
Cantata was published in 1964. The five-song vocal suite was premiered by soprano Leontyne Price at Constitution Hall in Washington, DC. The composer talked about his work in an interview with famed musicologist Dominique-René de Lerma:
"Cantata is based on a few well-known spirituals. I was always curious that Black composers rarely concerned themselves with this music. They've been arranged, but Black composers have not cared for their folk music as have Chopin or Bartók, for example… This is what I decided to do with this material, with one movement for each of the five spirituals. The first, for piano alone, is the "Prelude." Second is a rondo, based on "Peter, Go Ring Them Bells." "Sometimes I Feel Like a Motherless Child" is third, as an air, and then comes "Let Us Break Bread Together." The last movement is a toccata, "Ride on, King Jesus…" As for the melodies, a lot of spirituals are pentatonic, and twelve minutes of five-note melodies might not be too interesting so I've not hesitated to alter the melodies."
-John Daniels Carter
Eleanor Alberga is a highly regarded British composer with commissions and premieres from the BBC Proms and The Royal Opera. Her work is noted for its emotional impact, depth of craft, and brilliant coloring and orchestration. Native to Jamaica, her cultural includes performing with the Jamaican Folk Singers and as a dancer with an African Dance company. Her catalogue of works includes an opera based on an Isabel Allende story, 'Letters of a Love Betrayed, chamber music, and orchestral music. Her piano music has a deep connection to her Jamaican heritage, and she has also composed for voice and choir.
String Quartet #3 is from 2001 and contains four movements.
The opening creeps up on you as a low hum allows a violin to create a warm melodic line, somewhat reminiscent of birds and the sea – just so idyllic. I think this is because, for me it evokes one of William Alwyn's sea and bird themed quartets that I have discussed in the past. With the drone continuing, the violin becomes skittish and random pizzicato cello tones are heard. A further pizzicato section is followed by the cello returning to the bow and we have the beginnings of a serious mood. Cello tones reach out, before it returns to the ensemble and a section increasing in animation is powerful with alluring violin melodies. These are accompanied by further pizzicato cello, which never feels pizzicato to me – I prefer to think of pizzicato cello as sounding like jazz style walking bass. The violins have a wonderful feeling of angst about them until one violin sustains a tone for some time, and the cello responds with scant assertions before taking over. Harmonised cello and violin lines are slightly dissonant, leading to a thoughtful passage. Now the composer returns to the cut and thrust of dueling violins and occasional pizzicato interjections. A sparse, blatantly atonal passage is followed by some more tonal uncertainty and various changes in dynamics. The sound of a soft violin line accompanied by even softer pizzicato cello mutterings leads to a gentle end. This movement is quite long and there is much good music here – in fact, too much to cover. I have a feeling that I shall be listening to this piece again soon.
The second movement, marked scherzo (vigorous, light, or playful), again has an air of ambiguity, both tonal and rhythmic. This is a long way from the scherzo of a Haydn or Mozart, or even Beethoven. Swirling violin lines seem to dance around the scurrying cello feeling. Strong chords form a pattern which is replicated in gentler, pizzicato manner. A melodic motif is repeated and reharmonised to an abstract effect. Roughly hewn cello lines lead the violins into a marginally chaotic duet, with some double stops from the cello. The end is one violin musing to a pause, and a final note from the cello is heard. An adagio movement follows and I am starting to get a handle on the composer's style as two violins edge forward into a passage of consonant harmonies. Strains of dissonance drift in and out as the harmonies subside and the violins are left as they were for the opening. Three strong chords set up a spirited passage as the violins again duet expressively, similar to the previous movement. A resonant, weeping cello underpins the violin's brooding utterances. Now the work moves up an emotional level with a great depth of feeling projected. The end is stunning as the violins form an unusual shrill, harmonised motif that is very fetching. The motif is repeated and a drone is heard before one violin plays just a sweeping phrase from the motif. This is a wonderful touch.
The final movement, marked allegro begins in a very formal manner with two violins, but they soon make their way into an abstruse feeling, which is soon supported by the cello. A section of the two violins has them playing the same rhythmic pattern. The formal has now definitely become the abstract until the violins return to the previous rhythmic pattern, this time with dark overtones. The composer chooses this moment for a brief, unexpected section of harmonious music.
Artist Biographies
Joelle Lamarre is a soprano specializing in new works by leading contemporary composers like Pulitzer Prize winner Anthony Davis in his opera, "Central Park Five" and Guggenheim Fellow George Lewis, in his experimental opera "Afterword: The AACM". Joelle is the Playwright of the one act, The Violet Hour, which explores the early beginnings of Leontyne Price's career up to her final performance of the opera Aida (currently being rewritten). Performing across genres in theatre and opera, Joelle is a multi-faceted artist who pushes boundaries leading Opera News to write: "Joelle Lamarre's soprano has a glorious, lyrical bloom."
Pianist Kuang-Hao Huang is most often heard as a collaborator, performing recitals and radio broadcasts with Chicago's finest musicians, from instrumentalists of the Chicago Symphony Orchestra to singers with the Lyric Opera. An advocate of new music, Mr. Huang is a member of Fulcrum Point New Music Project and has given numerous premieres, including solo works by Louis Andriessen and Chen Yi at Weill Hall as part of Carnegie Hall's Millennium Piano Book Project.. Mr. Huang serves on the faculties of the Chicago College of Performing Arts at Roosevelt University and Concordia University-Chicago. Mr. Huang can be heard in recordings on the Cedille and Naxos labels. For more information, go to www.khpiano.net.
Dr. Kate Carter enjoys a varied career as a chamber musician, recitalist, and teacher. Kate has performed chamber music with members of Fulcrum Point New Music Project, the Lyric Opera Orchestra, Chicago Philharmonic, International Chamber Artists, and the Grossman Ensemble, and is a founding member of critically acclaimed Blue Violet Duo. She has toured internationally with orchestras including Camerata Chicago (2013) and the Lucerne Festival Academy (2009). She appears regularly with orchestras including Music of the Baroque, the Grant Park Symphony, and as Assistant Concertmaster of the Elmhurst Symphony. Kate holds degrees from Northwestern University and the Eastman School of Music.
Paula Kosower is an active performer and teacher currently residing in Chicago. She frequently performs for the Chicago Philharmonic Chamber Music Series, the University of Illinois Tuesdays-at-One series, North Park University Faculty Concerts, Bach Week Festival Concerts, for events at the Music Institute of Chicago, and for live performances on WFMT 98.7. Other concert appearances include the Chicago Symphony Chamber Music Series, Fulcrum Point New Music Project, Rembrandt Chamber Players, Rush Hour at St. James Cathedral, Art Institute of Chicago, Classical Mondays at Preston Bradley Hall, Mostly Music, Fourth Presbyterian Church, Music of the Baroque, Dempster St. Pro Musica, Bach Aria Society of Kansas City, Kansas City String Quartet Program and Wisconsin Public Radio FM 89.7. She has appeared on faculty recitals performing with colleagues at Roosevelt University, Northwestern University, University of Chicago, North Park University, University of Illinois at Chicago, Wheaton College, Carthage College, and UWMadison.
Violist Claudia Lasareff-Mironoff has premiered many works. A Northwestern University alumna she has performed with members of the CSO, the Pyrenean String Quartet, Roger Chase, Mathias Tacke, William Wolfram, and Eighth Blackbird. She has performed with the Lyric Opera of Chicago, Grant Park Music Festival, Santa Fe Opera, Chicago Philharmonic and has been the principal violist of the Cape Town Symphony Orchestra (S.Africa), Colorado Music Festival, Chicago Opera Theater, the Joffrey Ballet and Fulcrum Point. Featured performances include the Ravinia Festival, Ear Taxi Festival 2016, Music Now, Present Music and Chamber Music Milwaukee, WFMT broadcasts and Dame Myra Hess Recitals.
Rika Seko has been an active freelance violinist in the Chicago area since 1996. Currently she is Concertmaster of the Elmhurst Symphony and a member of the Grant Park Music Festival Symphony, Music of the Baroque Orchestra, Chicago Philharmonic, Fulcrum Point New Music Project and Camerata Chicago, as well as Ivy Lane and Pyrenean string quartets. In the pandemic of 20-21, as many of the activities are put on hold, Rika has been enjoying a variety of chamber music activities with friends, colleagues and family.
Created in 1998 by Stephen Burns, the mission of Fulcrum Point New Music Project pushes the boundaries of the musical experience globally by: supporting new compositions, creating and performing new music experiences, and educating audiences to imagine the possibilities of music. Its programs are influence by popular culture, literature, film, dance, jazz, Latin and world music. Through multi-disciplinary programs, Fulcrum Point encourages audiences to make cross-cultural connections between new music, art, and technology, gaining greater insight into today's diverse world. Fulcrum Point's AuxIn: Connected and Discoveries: Hear & Be Heard are co-curated by Angel Bat Dawid and Dalia Chin. www.fulcrumpoint.org.