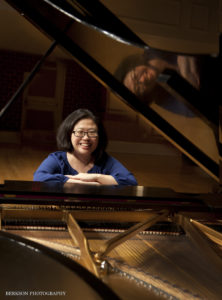 South Korean native Koeun Grace Lee is an avid performer, educator, and conference lecturer. She holds a Doctor of Musical Arts in Piano Performance and Post-Master's Certificate in Music Theory Pedagogy from the University of North Carolina-Greensboro, Master of Music in Piano Performance from the University of Missouri-Kansas City Conservatory of Music, and Bachelor of Music in Piano and Piano Pedagogy and Artist Diploma from the University of Tennessee-Knoxville.
Dr. Lee is active in performing contemporary piano music. Her performance of Folksong Revisited, a solo piano work of Korean composer Jean Ahn, was featured in Music in Chicago of WFMT. She also recently performed a program entitled "Solo Piano Music of Korean Culture and Composers" at Chicago College of Performing Arts of Roosevelt University and Christian Reformed Church-Western Springs. She will be recording an album entitled Variations on a Theme by Stefan Wolpe in collaboration with an American composer, Robert Gross, as well as piano works by Jean Ahn and David Burge in 2024. She published a doctoral dissertation entitled "Isang Yun's Musical Bilingualism: Serial Technique and Korean Elements in Fünf Stücke für Klavier (1958) and His Later Piano Works."
Dr. Lee has presented numerous lecture-performances at conferences of the College Music Society in the U.S. and South Korea. She has been an active presenter at the Composition in Asia International Symposium and Festival at the University of South Florida and a featured artist in the Asheville Art Museum Pianoforte Series. She has appeared in SPG Live! Performance series of Steinway Gallery in Greenville, Charlotte, and Greensboro.
Dr. Lee is currently on piano faculty at Mattix Music Studio in Western Springs. She previously taught at Brevard College, Mars Hill University, Academy for the Arts at First Baptist Church-Asheville, and the University of North Carolina-Asheville Summer Piano Camp. Dr. Lee is an active member of College Music Society, Music Teachers National Association, National Federation of Music Clubs, and Suzuki Association of the Americas.