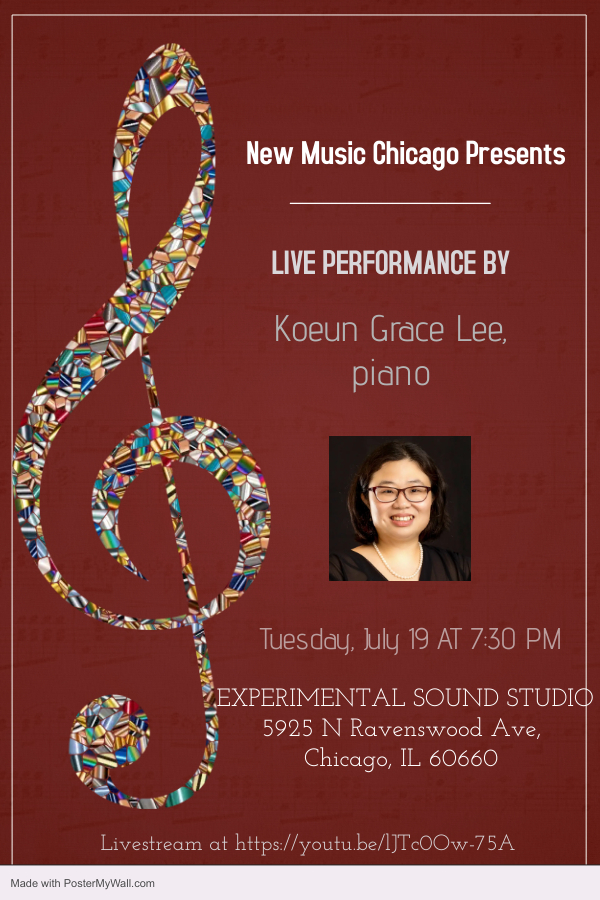 NMC Presents: Koeun Grace Lee
138
138 people viewed this event.
Pianist Koeun Grace Lee performs the monumental Variations on a theme by Stefan Wolpe, by Robert Gross.
Variations on a Theme by Stefan Wolpe is music composed to make essentially two points: first, that the demarcations between tonality and post-tonality are extremely fluid (and therefore they are not mutually exclusive and are indeed complementary and compatible in single-work coexistence); and second, post-tonal prolongation exists, because without it, post-tonal variation in theme-and-variations form would not be possible.
The entire work will be released in an album entitled Variations on a Theme by Stefan Wolpe  and other selected piano works by PARMA Recordings in March 2023.
NMC Presents is New Music Chicago's free monthly concert series featuring its members, streamed live from and in cooperation with Experimental Sound Studio.
Additional Details
Program
Full program notes available at https://drive.google.com/file/d/1dCFnr7sBwVnvyygqyivuQIq-RCJyBTFY/view?usp=sharing