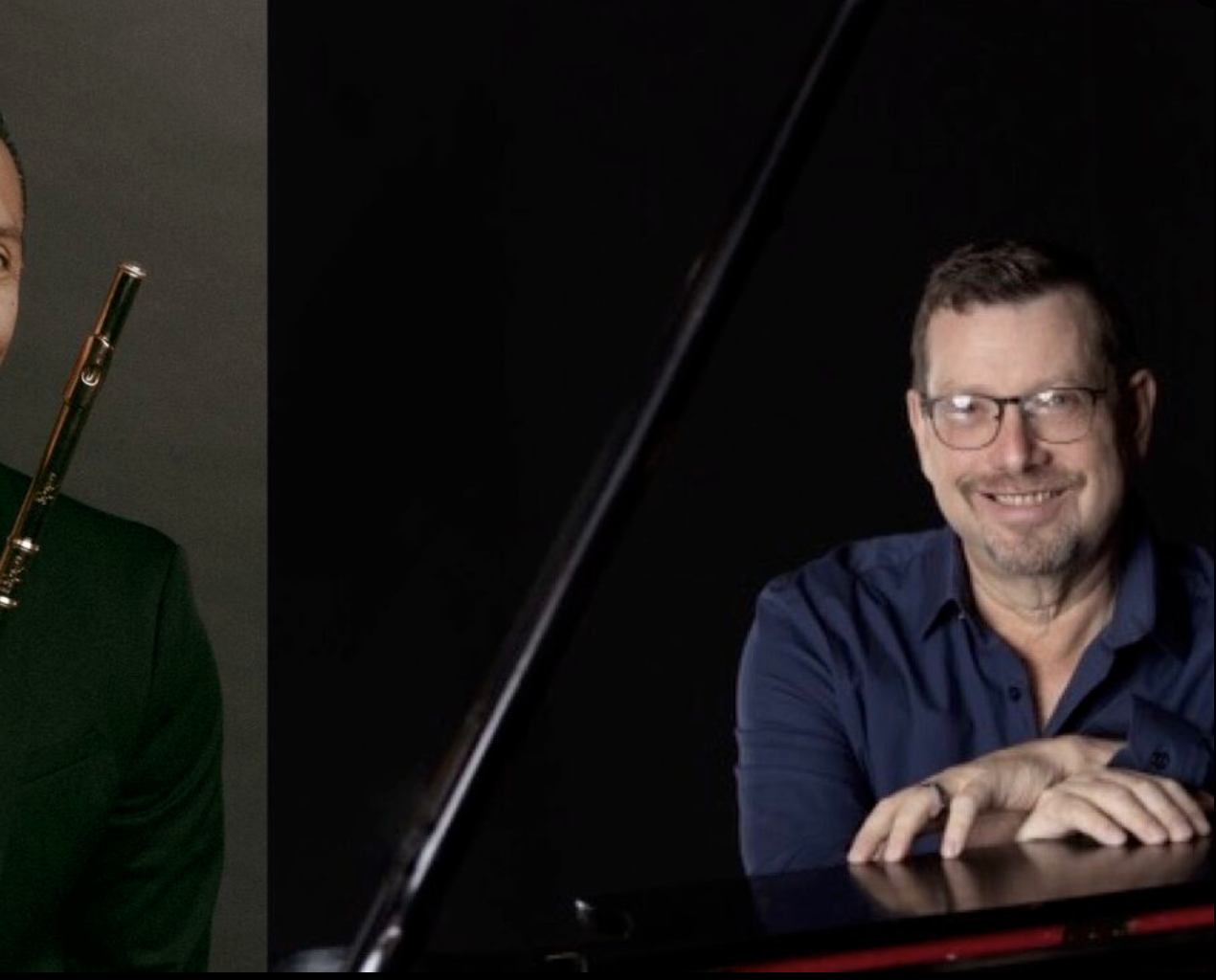 IMMERSIVE CHAMBER MUSIC SERIES: STEVE YEPEZ & JEFF PANKO
249
249 people viewed this event.
Flutist Steve Yépez has been performing for thirty years and comes to the stage with a long history of performing around the country and especially along the West Coast and throughout the Chicago area. Mr. Yépez has been the Principal Flute for the Chicago Summer Opera since 2009, as well as both the Principal Flute for The Chicago Arts Orchestra, and The Chicago Jazz Philharmonic. In addition to performing with those stellar ensembles Steve is a member of the faculty at The New Music School and frequently performs in chamber music groups with colleagues there. In Los Angeles he has performed with a number of notable groups, including The West Los Angeles Symphony, Burbank Philharmonic, and The Antelope Valley Symphony. And for three summers Mr. Yépez played at the Walt Disney Concert Hall as the Principal Flute and Assistant Principal Flute with the Idyllwild Festival Orchestra. In 2009, Steve Yépez founded the Chicago-based chamber ensemble, Primavera Players, now The Yépez Players, which performs regularly and has added a new focus recently: outreach concerts and chamber music to young people – in a bid to both introduce and excite them into the world of classical music. The Yépez Players has performed widely around Chicago and has been a part of the Skyline Salon Series. The Yépez Players' newest venture, Collaborate in Harmony has added an exciting twist to performance: working with the corporate world to teach the classical musicians' approach to communication and productivity but in the business/technology workplace. Mr. Yépez has earned his Master of Music Degree at DePaul University after graduating from California State University, Northridge. He has studied with renowned flutist, Mary Stolper (Grant Park Symphony); Sandra Iles (California State University); and Catherine Ransom (Los Angeles Philharmonic). In addition, he has performed and participated in Masterclasses with William Bennet, Walfrid Kujala, Jeanne Baxtresser, Anne Zentner, Jonathan Keeble, Eldred Spell, and Eugenia Zucker.
Pianist Jeffrey Panko has received critical acclaim as both solo and collaborative artist throughout the United States and Europe. Earning degrees in Piano Performance from the Oberlin College Conservatory of Music and the DePaul University School of Music, Panko was awarded top prizes in the Society of American Musicians' Piano Competition (Chicago) and the Frinna Awerbuch International Piano Competition (New York). Following a concert tour of Poland where he was honored by the United States with the title of Cultural Ambassador, Panko was invited by the City of Chicago to present a Chopin recital for the visiting Lech Walesa and other Polish dignitaries. Panko has also been featured in performances at Carnegie Hall, Weill Hall, Lincoln Center Library, WQXR Radio (New York), is a frequent performer on WFMT Radio (Chicago), and appeared in Symphony Center playing the music of Steven Sondheim for Mr. Sondheim. An Artist Faculty member of the New Music School piano faculty in Chicago, Panko also serves as Minister of Music and as Artistic Director of the Music at Bethel Concert Series for Bethel United Church of Christ in Elmhurst, Illinois and is a founding member of the Indigo Ensemble.