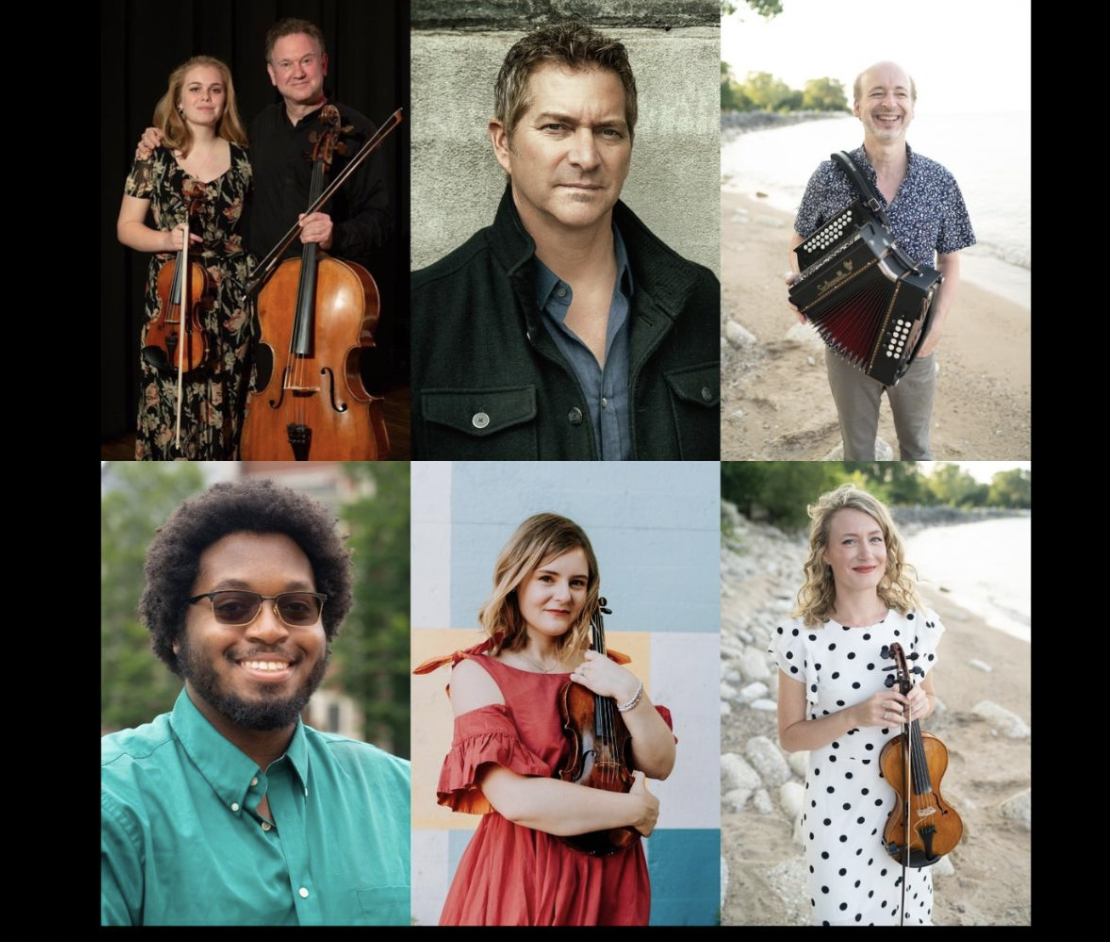 IMMERSIVE CHAMBER MUSIC: PILGRIM CHAMBER PLAYERS LIVESTREAM
50
50 people viewed this event.
$10
Join us November 3rd for a unique and thrilling night from a supergroup of musicians from all over corners of the country performing works from the worlds of folk, classical, and cinematic music. The program will include Ravel, string quartet selections arranged by the Danish String Quartet, Traditional Irish music, and our string quartet featuring the pipes. Our concert is by musicians from "The Pilgrim Chamber Players" based in Highland Park, IL, directed by cellist Steven Honigberg.
THE PERFORMERS:
Special guest from Los Angeles, film soundtrack veteran bagpipe and whistle player ERIC RIGLER will be featured playing selections from "Titanic" and "Braveheart", two films he recorded on the original soundtrack for. His legendary 50-year career on the bagpipes & whistles is world-famous. From performing "Amazing Grace" at President Reagan's funeral to hundreds of appearances in film soundtracks, Eric has been called "the most recorded piper in history".
Chicago based KATIE GRENNAN'S traditional fiddle playing carries the articulation of a gifted classical musician tempered by the soul of a champion Irish dancer. Her wide ranging experience as an international touring performer in both live stage productions and television have given her a unique platform as an ambassador for the music of her heart. Katie was the fiddler in the popular celtic-fusion band Gaelic Storm for over five years, has recorded a number of solo albums, and is involved in a number of cutting edge musical projects, including The Winifred Horan Quartet, The Bow Tides & Chicago-based STEAM Quartet.
Chicago based JOHN WILLIAMS is internationally regarded as one of the foremost players of Irish music today. With five All-Ireland titles to his credit, John is the only American-born competitor ever to win first place in the Senior Concertina category. His additional talents on flute, button accordion, bodhran, and piano distinguish him as a much sought after multi-instrumentalist in the acoustic scene around the world.
Los Angeles based fiddler and violinist LILY HONIGBERG performs all kinds of genres of music, from Irish fiddle music to pop music to classical music and on. She graduated from New England Conservatory as a Classical violinist in 2018, and completed her studies there in 2020 with a Master's Degree in Contemporary Improvisation. Lily released her debut album of original fiddle music, Sunrise Summit, in the summer of 2021 with incredible musicians John Doyle on guitar and James Heazlewood-Dale on bass.
JINTY MCTAVISH is a classically-trained violinist known for her passionate performances, fiery improvisations, and Paul Buckmaster-inspired string arrangements. When she's not performing with ATLYS, you can find her shredding in the clubs across Chicago with a DJ as @jintshred or snuggling with her beloved puppy Appa.
Chicago based violist WILFRED FARQUHARSON enjoys a multi-faceted performance career as studio, orchestral, and chamber musician. Wilfred currently serves as faculty at the Merit School of Music, and he is the violist of D-Composed Chicago and Crossing Borders Music. He also has served as principal violist of the Elmhurst Symphony Orchestra as well as substitute musician of the Lyric Opera of Chicago. In the summer of 2022, Wilfred performed with the Grant Park Symphony Orchestra as one of their fellows He was a Los Angeles Orchestra Fellow which meant he served as a mentor to the students of the Inner City Youth Orchestra of Los Angeles and performed with the Los Angeles Chamber Orchestra while he was a graduate student at USC. Prior to becoming an LA Orchestra Fellow, Wilfred attended the Jacobs School of Music at Indiana University as a Premier Young Artist
Cellist and Artistic Director STEVEN HONIGBERG (a Highland Park native) comes to lead Pilgrim after having directed several prominent chamber music series in his career: 8 years at the U.S. Holocaust Memorial Museum in Washington, DC where he premiered a number of new works. Honigberg was hired by Mstislav Rostropovich to join the National Symphony Orchestra in 1984. Honigberg has been featured numerous times as a soloist with the NSO. He won rave reviews for the 1988 world premiere of David Ott's Concerto for Two Cellos performed with the National Symphony and conducted by Msistlav Rostropovich, with repeat performances on the NSO's 1989 and 1994 United States tours.
Pilgrim Chamber Players offers music-lovers in the North Shore and Chicago area the opportunity to enjoy high-caliber Classical chamber music concerts in an intimate and convivial setting. Artists presented at these concerts are at the top of their fields – performers who are at home on the stages of the great halls of North America, Europe and beyond. My programs are extremely varied and the atmosphere welcoming that makes people want to return again and again.