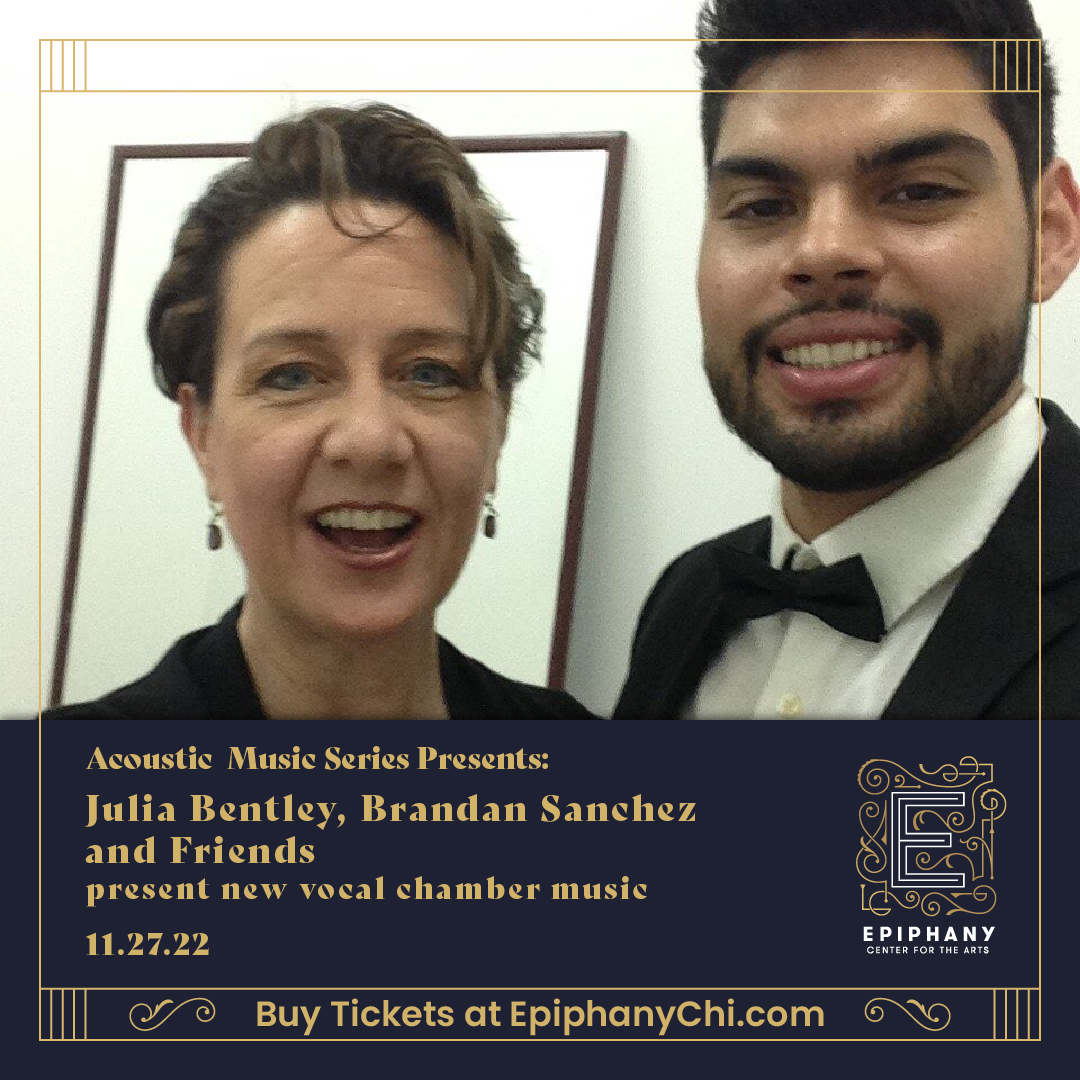 Acoustic Music Series: Julia Bentley, Brandan Sanchez, and Friends present new vocal chamber music
52
52 people viewed this event.
$20
Julia Bentley and Brandan Sanchez met as teacher and student at the Jacobs School of Music in Bloomington Indiana; Julia's degrees from that school preceded her thirty years of performance for Chicago's vibrant music presenters, including the Lyric Opera, the Chicago Symphony Orchestra, the Civic Orchestra, MusicNOW at Symphony Center, Music of the Baroque, the inaugural Ear Taxi Festival, and tours and Grammy-nominated recordings with the cabaret ensemble The New Budapest Orpheum Society. Brandan has just arrived in this beautiful city, and offers the live world premiere of composer Matt Recio's Come Home in this performance at the Epiphany Center for the Arts. He has performed lead roles in Bernstein's Mass, Puccini's Gianni Schicchi and La Bohème, has appeared with the Cedar Rapids Opera and will debut this season with the Nashville Opera. He was awarded a Mu Phi Epsilon grant for his advocacy for song repertoire in Spanish, and is featured in the Decameron Opera Coalition's upcoming Virtual Premiere of new chamber music for voice.
Chamber Music is the quintessential collaborative genre! This program features many textures and many artists, including sopranos Victoria Schemenauer, Anne Slovin and Brianna Murray, flutist Jean Lee, clarinetist Eric Mandat, bassoonist Liam Jackson, cellist Janek Schaller and pianist Mark Bilyeu, in vocal chamber works in English ranging from John Corigliano's lovely Irish Folksongs (1988) over surprisingly varied textures to this 2022 world premiere by the gifted young composer Matt Recio.